Summary
Change another card Reader/Adapter and use 4Card Recovery to rescue your previous memory card data as much as possible back, no matter how and why this card cannot be read on your computer and whether it is really corrupted yet.

Memory Card File Recovery by 4Card Recovery
Free download 4Card Recovery to scan your memory card from one section to another and rescue all possible pictures, messages, mails, files and videos back.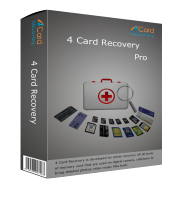 Memory Card, SD Card, Micro SD Card or Memory Stick Cannot Be Detected Well on Computer as Usual?
When putting digital camera to your computer, you just find no photo and other information on the inner memory card or memory stick? When inserting camera Micro SD card to your laptop with a card Reader, you just find this memory card is not even detected as usual for unsupported RAW file system? When connecting mobile phone SD card to desktop with a card Adapter, you just find this memory card needs formatting at first? Or when plunging camcorder to computer, you just find the attached memory stick says: "The files/directory is corrupted and not readable…"? Guess this memory card is corrupted and cannot be restored back? But, still want to know whether the let memory card contents, like pictures, files, messages, videos, texts, audios and more, are still recoverable or not? OK! Do not panic to discard this memory card that seems to be seriously damaged. Simply change another card Reader or Adapter and check whether this card could be normally read on your computer as before. Moreover, in order to rescue your wanted memory card data, you can rely on memory card data recovery software.
Recover Data from Probably Corrupted Memory Card, SD Card, Micro SD Card or Memory Stick?
Though this memory card, Micro SD Card, SD card or memory stick cannot be read normally on your computer, it doesn't mean it has already seriously damaged. It also could be caused by bad, loose or faulty connection. Merely try to read these different types of memory cards with another storage device, USB card Reader or Adapter. Also cannot freely access the memory card information due to some RAW format issue, not formatted error and the likes? Don't be nervous! Simply use corrupted memory card recovery software like 4Card Recovery and check how much of your original phone/camcorder/player memory card data could be taken back.
No matter what happens, follow steps to rescue your inaccessible memory card data:
Step 1:
Connect this memory card to your computer with available USB card reader/adapter and download data recovery software to computer partition. And then, open this software and click a practical file type recovery mode from four.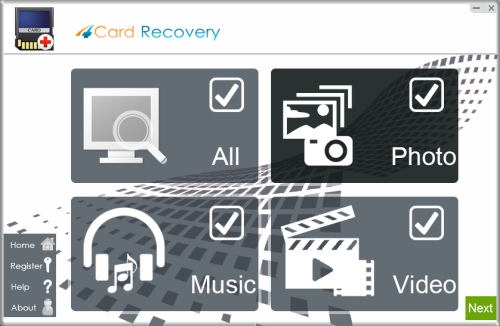 Select recovery options in the main interface
Step 2:
Look through all detected storage devices and pick your memory card out rightly. And then, start to scan this memory card.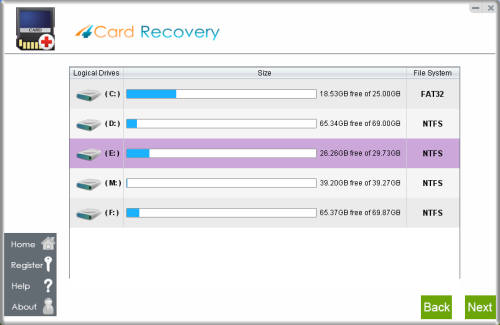 Select card to search photos off card
Step 3:
Preview card photos, files or messages when all possible original information is displayed there.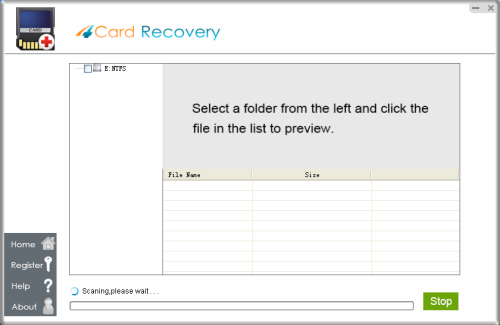 Wait while scanning lost photos, sometimes it takes about 20 minutes to scan a 32G card.
Tips: if it takes more than 2 hours to scan a 32GB card, you may stop the scanning and wait to see
what's already found. Since the card may contains bad blocks that takes longer time than usual.
Step 4:
Select the location to store all restored memory card stuffs. You'd better not choose the original memory card in case of data recovery failures.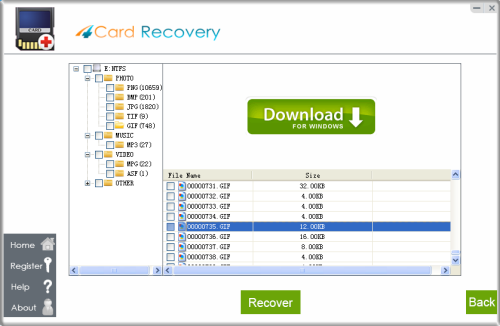 Preview lost photos and save found files. It would generate a folder to contain your lost data.
Please do not save the photo to the card where you lost them. Save them to your PC drive!

Download 4Card Recovery
Tips:
* Make sure this memory card is not used to store new photo and other data when you are preparing something for latter data recovery.
* Make sure this memory card is not the final device to hold all restored photos, files, videos and others. Plunge other drives or memory cards as the target devices in advance.
* Make sure the restored memory card data has been saved on two or more drives or locations to avoid any farther data loss issue. In the future, also make data backups well all the time.
Memory Card Photo, Video, Audio & File Recovery
The memory card could be used on various devices (including mobile phones, digital cameras, camcorders, tablets and players, etc) to store different pictures, texts, mails, songs, videos and more. It really plays an indispensable role in people's lives. However, sometimes, due to some unexpected causes or accidents, people also remove or delete these stored precious memory card contents without data backups. When such data loss troubles really stick to you now, do not worry. With highly developed data recovery software like 4Card Recovery, you always can rescue your original memory card stuffs back as many as possible.
Memory Card, like SD Card or Memory Stick, Is Corrupted?
Is your memory card dropped into pieces? Is your SD card burnt into a tiny black piece? Or is your memory stick is damaged in hot water? OK! If your memory card (including SD card, Micro SD card or memory card stick, etc) data loss problem is similar to one of these listed questions, your memory card must be really physical corrupted and often cannot be used again. The inner reserved information is often also lost with that corruption. But, if your memory card data loss situation is not that bad, merely try with data recovery software.
Various Types of Memory Cards Cannot Be Read on Computer
Many people have ever encountered similar memory card data loss troubles. Read more related details here:
Story1: Hey, 4GB SD card has hold nearly 3GB of holiday photos that taken with my Panasonic camera. However, when trying to upload them all to my Samsung computer, the detected camera memory card just shows nothing. This SD card is strangely empty. Is there something wrong with this camera SD card? Is it a dream now for me to take my holiday photos back? Thanks!
Story2: This morning, my girl friend connected my Kingston Micro SD card to laptop with a new card Reader and found this memory card was not even detected there. Nothing was changed. I really have no idea about such troubles. Please help me rescue my Micro SD card songs back. Thank you!
Story3: SD memory card won't be read on my computer. Honestly, I had used this memory card for a really long time. It always worked fine till yesterday. Nothing was detected there. I just connect it there with a card Adapter borrowed from my roommate. Do you have any idea about this? What can I do to fix this? How can I rescue my memory card photos?

Download 4Card Recovery