Summary
Learn to get deleted files, photos, mails, films and other stuffs back from write protected memory card with data recovery software like 4Card Recovery after you've got rid of the card write protection completely.

Memory Card Data Recovery by 4Card Recovery
Free download 4Card Recovery to rescue your preferable SD card, CF card, Micro SD card or other memory card data back after accidental deletion.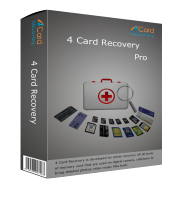 You Are Unable to Recover Data from Write-Protected Memory Card, SD Card or Memory Stick?
Have deleted photos off from memory card, SD card or memory stick purposely at first? However, a couple of hours, days or months latter, find these deleted stuffs are really needed in the near future and start trying to rescue them all back? But, you only find this memory card, SD card or memory stick is write-protected and is not able to be edited, copied or formatted in this moment? OK! Don't worry! It is really easy for people to recvoer deleted data at the aid of memory card data recovery software as long as the deleted stuffs, like photos, files, messages, mails and others, are not actually overwritten or destroyed by new data on the same card. However, in your case, in order to make everything goes smoothly, you are also suggested to remove the memory card write protection completely before you apply data recovery software to undelete memory card.
Undelete Memory Card, SD card or Memory stick after Disabling Write Protection?
Before overcoming this write protection error, you often cannot successfully do any editing to your memory card, SD card or memory stick, including copying, formatting, deleting or even your desired data recovery process. Hence, firstly disable that card write protection and then, set out to rescue your flash memory card information with deleted data recovery software like 4Card Recovery, which has offered four file type recovery modes for you to process different data loss troubles.  
Here is the step guidance for you to get everything original back:
Step 1:
Free download the linked version of this software and run it well on your PC with your memory card or memory stick attached. Open software and choose your desired file type recovery modes to go, like "Photo", "Video", "Music" or "All".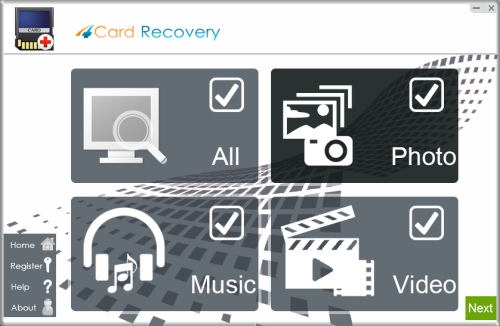 Select recovery options in the main interface
Step 2:
Select your storage device with write protection on and let this software to scan this card deeply.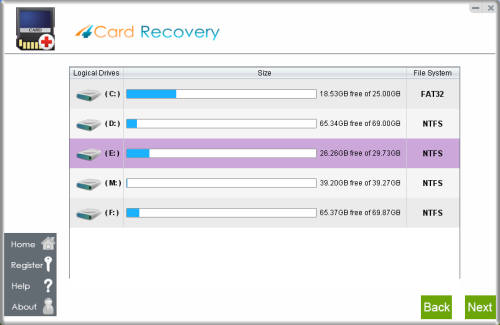 Select card to search photos off card
Step 3:
Check all scanned card information by using "Preview" function and carefully mark the useful and recoverable ones out.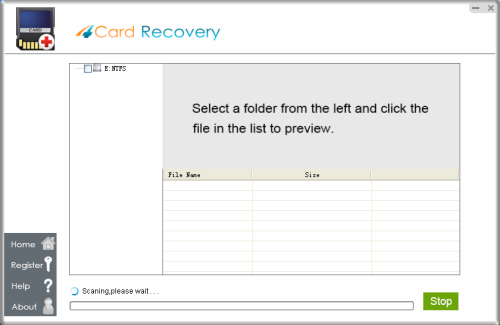 Wait while scanning lost photos, sometimes it takes about 20 minutes to scan a 32G card.
Tips: if it takes more than 2 hours to scan a 32GB card, you may stop the scanning and wait to see
what's already found. Since the card may contains bad blocks that takes longer time than usual.
Step 4:
Choose a completely different drive or memory card to hold all restored memory card data in case of unsatisfied data recovery results.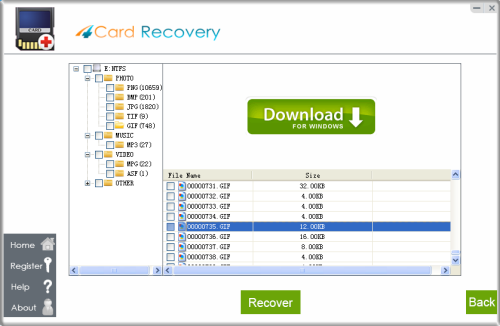 Preview lost photos and save found files. It would generate a folder to contain your lost data.
Please do not save the photo to the card where you lost them. Save them to your PC drive!

Download 4Card Recovery
Please Note:
* Firstly find all available external drives, thumb drive or other storage medium out to store your new data instead of this write protected memory card.
*Secondly preview all scanned card files to choose the recoverable ones out only in case of wasting your time.
* Thirdly save restored memory card, SD card or memory stick stuffs on another drive, flash memory card or location in case of data recovery failures.
* Fourthly learn to make data backups from now on to avoid such data loss problems.
How to Remove Write Protection Error?
The write protection function can help people prevent any unwanted or unauthorized modification to the stored memory card or USB flash drive data, like thumb drive/memory card data cutting, deleting, editing or formatting, etc. That's also why you cannot rescue your deleted stuffs back successfully before removing that write protection error. So, just learn to remove that write protection function and do anything preferable to your memory card, SD card or memory stick. Just slide the designed write protection button to open or close that function or simply use related software online to go on.
Restore Data from Memory Card
There are often two clues to restore deleted or lost data back from different memory cards, like SD cards, CF cards Micro SD cards, SDXC cards, memory stick and more. Firstly, stop using this storage card to avoid farther data loss and simply download or select proper data recovery software to manually take all possible memory card photos, videos, mails and other type of files back within several simple clicks. With different data recovery software, you often can have different data recovery results. However, if the data recovery software doesn't help rescue your desired stuffs back, don't be depressed. With proper money, you also can rescue your lost memory card stuffs back with the help of data recovery experts, agencies or companies.
How to Undo Delete SD Card?
As one type of memory card data loss troubles, the deleted SD card data loss problems are also annoying when you do have no SD card data backups left. Of course, with proper data recovery software, it also could be really simple to retreve deleted SD card files. With enough extra money, the data recovery experts/agents/companies also could be your alternatives. However, no matter which way you choose to go, always rescue all possible stuffs back and immediately back them all up well on different drives, devices or locations.

Download 4Card Recovery