Summary
Verbatim drive data recovery software listed below can help you deal with diversified drive data loss problems and take your preferable photos, work files, mails, videos and other crucial things back from your assigned verbatim portable hard drive.

Verbatim External HDD Recovery by 4Card Recovery
Free download 4Card Recovery to rescue your desired Verbatim USB drive data back, no matter which type of drive data loss issues you are stuck in, such as deleted/formatted drive data loss issues, unformatted drive data loss issues and more.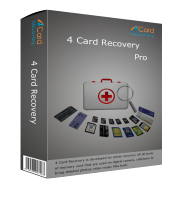 Are You Now Trapped by Verbatim External Drive Data Loss Problems?
Actually, data loss problems with Verbatim external hard drives can vary according to different drive states and different drive owner operations. However, most of these related data loss cases also could be divided into some common groups based on different causes, such as deleted drive data loss issues, formatted drive data loss issues, not formatted drive data loss issues and RAW file system drive data loss issues, etc. What type of Verbatim drive data loss problems are you stuck in now? Desperately need practical ways to take your non-backed-up drive information back as soon as possible? All right! In such drive data loss troubles, you often have ways and chances to rescue your wanted drive contents, such as work files, pictures, songs and other things, with Verbatim external hard drive data recovery software.
Learn to Restore Lost or Deleted Information from Verbatim USB Drive
This Verbatim USB drive data loss problem creates a really suffering headache for you? Really want to try every possible solution to get your needed mails, documents, movies and more stuff back? OK! Stop doing anything to this Verbatim portable hard drive and learn to restore your deleted or missing information back with USB Hard drive data recovery software like 4Card Recovery which can help you restore nearly all types of files and stuffs back from your hard drive with ease.
Let's follow below tutorial to take your drive contents back:
Step 1:
Launch the downloaded data recovery applications on your computer with this Verbatim USB drive attached well. And then, when comes to the software main screen, pick a data recovery mode or option there.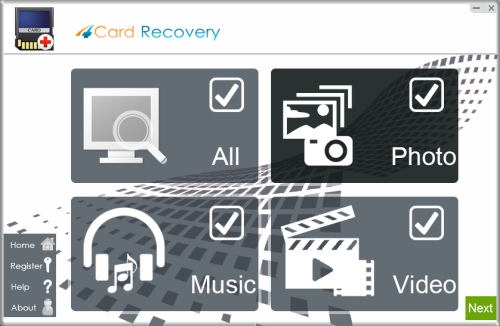 Select recovery options in the main interface
Step 2:
Follow guidance to choose this drive out from listed disks and scan this drive.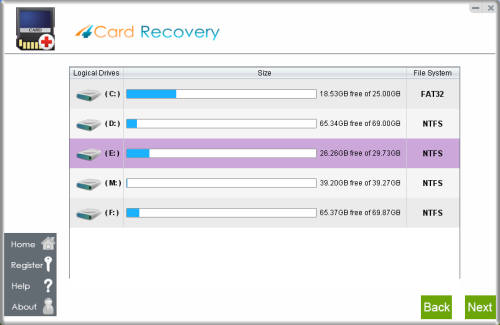 Select card to search photos off card
Step 3:
Preview scanned-out drive files and pictures. Just carefully check them all to choose the recoverable ones out only.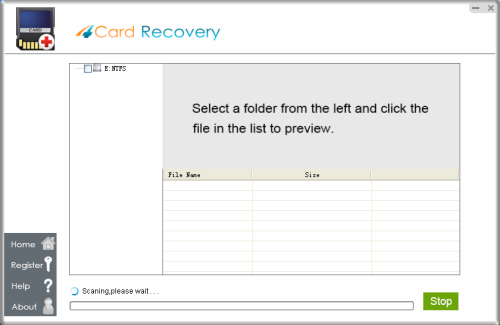 Wait while scanning lost photos, sometimes it takes about 20 minutes to scan a 32G card.
Tips: if it takes more than 2 hours to scan a 32GB card, you may stop the scanning and wait to see
what's already found. Since the card may contains bad blocks that takes longer time than usual.
Step 4:
Select the target location or device to store all restored drive information.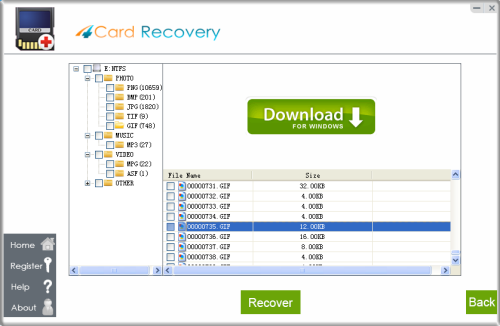 Preview lost photos and save found files. It would generate a folder to contain your lost data.
Please do not save the photo to the card where you lost them. Save them to your PC drive!

Download 4Card Recovery
Useful Data Recovery Tips:
* Distance this Verbatim drive from any new file, photo, video, music and other information before data recovery.   
* Keep the restored drive data away from this Verbatim USB drive after data recovery in case of data recovery failures.
* Make drive data backups on multiple devices or locations from now on.
* This 4Card Recovery software can help restore different types of files from diversified storage mediate, like memory cards, USB flash drives, external hard drives and the likes.
Change Your Drive Data Protection Habits
Have you rethought about why you get this Verbatim data loss problem carefully after rescuing your drive information back? Is it only caused by your careless operations? Or it is essentially caused by your bad habits? Do you do regular drive data backups on multiple drives or locations in daily use? Honestly, no matter what has caused this drive data loss trouble, once you do have one (yes, only one), duplicate of everything important left on other drives, you can always have no need to use any data recovery software or ask any data recovery agency/company for help. Therefore, in the future, just change your previous data protection plans and play good habits to make drive data backups regularly.

Download 4Card Recovery