Summary
Keep reading for learning how to restore useful USB hard drive information back when you've got some usual drive data loss problems, like mistaken data deletion loss, formatted drive data loss, inaccessible RAW drive data loss and more.

External Hard Drive Recovery by 4Card Recovery
Free download 4Card Recovery to cope with different external drive data loss problems and rescue your desired files, movies, photos and mails, etc.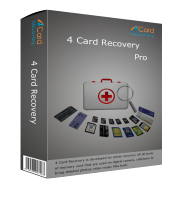 USB Hard Disk Gets Data Loss Issues without Backups?
Have a USB hard disk that holds much crucial computer data, such as movies, work documents, vacation pictures and business mails, etc? Frequently use this external drive to cut/copy and paste data between different computers or laptops? But, recently, USB drive has got some data loss issues, like accidental drive file/folder deletion, formatted drive data loss, virus attacking, or inaccessible RAW drive data loss, etc, and doesn't allows you to use or transfer anything inside? Really want to solve these data loss problems with ease and re-access stuffs left there? OK! No worry! Under such situations, you can still have a try with professional USB drive data recovery software to rescue your useful drive information back, even when there is no data backup found elsewhere.
Let Data Recovery Software Help You Take Drive Files Back
The common external drive data loss problems could be caused by drive issues, human errors and even computer problems. So, sometimes, it is really inevitable to encounter such drive troubles, especially when you do have not timely prepared drive data backups well. But, there is also no need to feel afraid. Once your drive information is lost or inaccessible for some deletion, not formatted error, RAW file system error, or drive format, etc, just remember that your previous drive stuffs are not really erased permanently. As long as they are not replaced by new files completely, you can easily download data recovery software like 4Card Recovery to take all recoverable files, pictures, mails, videos and audios back.
Here is the detailed data recovery procedure for you:
Step 1:
Launch your downloaded software on your PC and connect this USB drive to your computer. And then, open the software to choose desired data recovery options.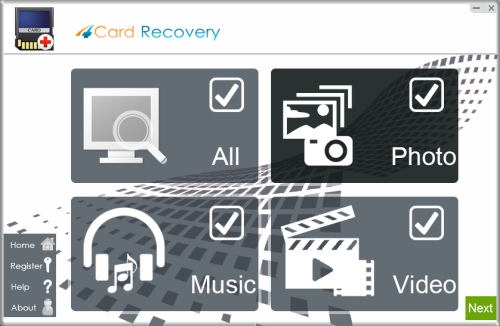 Select recovery options in the main interface
Step 2:
Open the next screen and find your external drive to scan. Wait with patience in the process of scanning.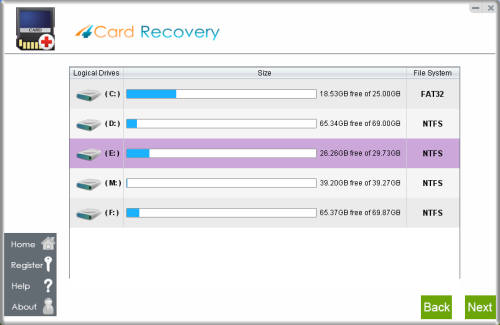 Select card to search photos off card
Step 3:
Click scanned stuffs and preview them to choose your desired ones.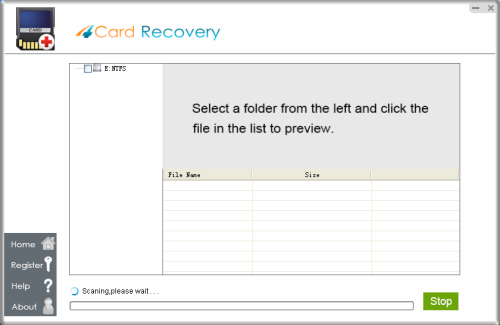 Wait while scanning lost photos, sometimes it takes about 20 minutes to scan a 32G card.
Tips: if it takes more than 2 hours to scan a 32GB card, you may stop the scanning and wait to see
what's already found. Since the card may contains bad blocks that takes longer time than usual.
Step 4:
Set the saving path of all wanted drive information. Choose the computer partition as the destination storage device.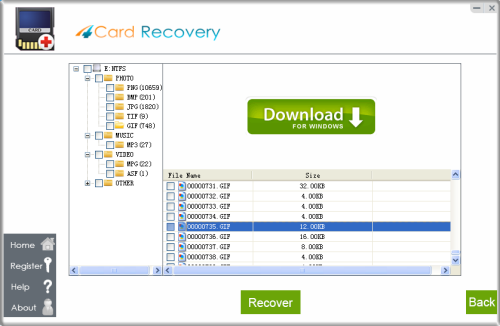 Preview lost photos and save found files. It would generate a folder to contain your lost data.
Please do not save the photo to the card where you lost them. Save them to your PC drive!

Download 4Card Recovery
PS:
* You can really lose everything useful completely, if you do freely save new stuffs on this USB hard disk with data loss issues.
* You can also encounter data recovery failures after all data recovery efforts, if you save the restored data all on the original external disk.
* You can also have similar data loss problems far more times, if you do save no other copy of important data on extra drives or locations.
More Suggestions to Protect USB Drive Data Well
In daily use of external hard drive, if you adopt right data protection strategies, you also can easily avoid some unnecessary data loss problems, like:
1). Prepare and check drive data backups well all the time.
Be regarded as the easiest way to avoid similar data loss issues, preparing drive data backup is often used as the essential strategy. So, don't want to lose any of your precious photos, videos or files off from external disk? Just make data backups on different drives or locations all the time. If you do have no extra drives or storage device to do such things, you'd better purchase one or more as soon as possible.
2). Using online storage to hold crucial drive data
But, if you really cannot find any extra money to buy a backup drive or device, don't panic! You also can take full use of some online storage to hold your crucial drive data. Honestly, with convenient internet, you can easily and quickly download your stuffs to use at any time and place, once you've uploaded them well to your online storage disk.
4). Update your computer operating system and antivirus software regularly
Except the drive problems and human mistakes, the data loss problems also could be brought by computer problems. So, in daily use, always check your computer well and also update its operating system well for functional use. By the way, to avoid some virus disasters, you are also supposed to update your antivirus software regularly to keep your computer or drive away from the virus damages.

Download 4Card Recovery