Summary
This tutorial will illustrate how you can use 4Card Recovery to take your wanted data back from external hard drive that has get some bad sectors.

External Hard Drive Recovery by 4Card Recovery
Free download 4Card Recovery restore your precious pictures, files, movies and other contents back from USB hard disk that becomes inaccessible for too many bad sectors now.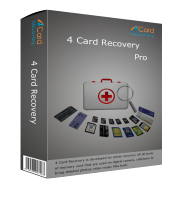 External Hard Drive Gets Bad Sector Problems?
External hard drive with many important contents says: "You need to format this disk in drive … before you can use it…"or"The disk is not formatted. Do you want to format it now"? Afterwards, when you are trying to test or check this drive with Windows error-checking tools (also often called as "chkdsk") or some diagnostic tools, only get some errors saying: "… drive…bad sector…unreadable…"? Want to access your drive information again without format and also find ways to repair drive bad sectors? OK! No panic! Before your external hard drive state becomes worse, you'd better follow the below steps to take your desired drive information back at first.
Tutorial to Restore Files from USB Hard Drive with Bad Sectors
External hard drive bad sectors often talk about some drive sections that have been damaged physically and cannot be read or written functionally again. Moreover, since these drive areas cannot work, the files or other stuffs stored there will also unluckily lose forever. But, that doesn't mean the entire USB drive contents are gone, too. Oppositely, the information stored on the rest drive sectors, the healthy drive sectors, are still stored there well and recoverable. Therefore, when external drive got inaccessible for such bad sector problems, you do need to stop using this drive and apply USB flash drive data recovery software like 4Card Recovery to take drive contents back as many as possible.
Here, follow the detailed data recovery tutorial to rescue your drive files back:
Step 1:
Download data recovery software and plunge this external drive to the same computer. And then, set up your downloaded software to choose desired data recovery option or mode.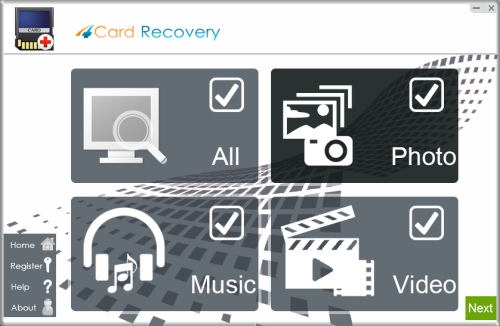 Select recovery options in the main interface
Step 2:
Select the USB drive with bad sector problems and scan this drive from one sector to another.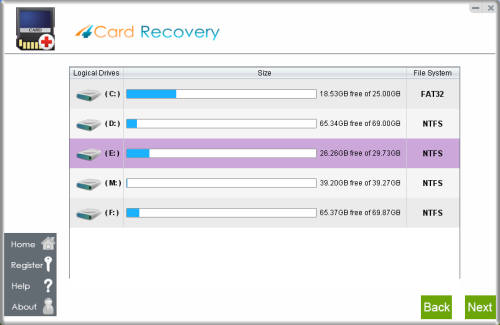 Select card to search photos off card
Step 3:
Preview the scanned drive information and mark the useful ones out.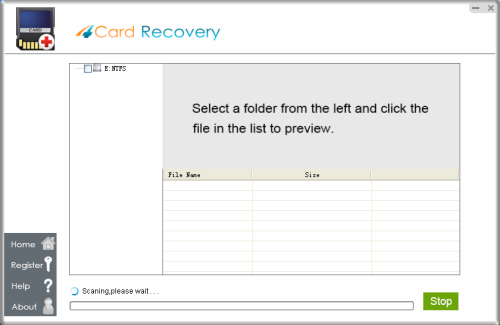 Wait while scanning lost photos, sometimes it takes about 20 minutes to scan a 32G card.
Tips: if it takes more than 2 hours to scan a 32GB card, you may stop the scanning and wait to see
what's already found. Since the card may contains bad blocks that takes longer time than usual.
Step 4:
Save the retrieved drive data to another healthy drive or partition.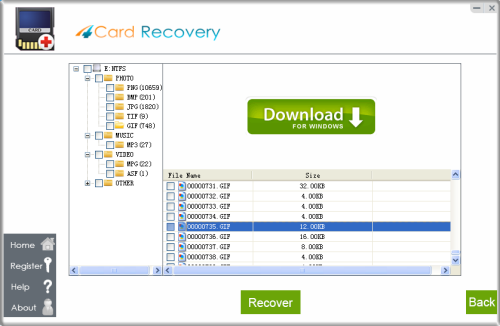 Preview lost photos and save found files. It would generate a folder to contain your lost data.
Please do not save the photo to the card where you lost them. Save them to your PC drive!

Download 4Card Recovery
Necessary Notes:
* Do not rewrite or overwrite this bad sector USB flash drive to make the drive state worse.
* Do not save any of your restore external drive stuffs on this drive with bad sectors in case of data recovery failures.
* Do not put anything precious to this external hard drive again in the future to avoid more serious data loss problems.
* Always prepare drive data backups well in advance all the time.
Hard Drive Dad Sector Information:
As you've learned above, the drive bad sectors especially talks about some drive sectors that have been corrupted seriously and have no any response to computer reading or writing requests. Once the sector is damaged, you can never access anything stored there. However, the external hard drives with bad sectors are not all unworkable. Without too many bad sectors, your external hard drive also can be used after being formatted fully. Why? In the process of doing full format on your external drive, the computer will not only erase your drive data as you often think, and will also find all existing bad sectors to mark them all out so that the computer will avoid writing anything else there in the future. So, with a really small portion of bad sectors, your drive can also work functionally as you wish. But, if your drive has too many or has nearly been filled with bad sectors, to avoid troublesome data loss problems, do not save any crucial drive information there.

Download 4Card Recovery