Summary
Here is a solution for you to rescue wanted files, videos, audios and more back, after your entire external hard drive information has strangely converted into useless shortcuts due to viruses.

Virus-Infected External Recovery by 4Card Recovery
Free download 4Card Recovery to scan your external drive and take your desired information back, when all your USB disk files and folders have turned into shortcuts suddenly.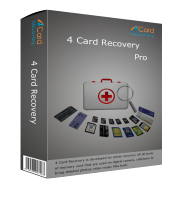 Needed USB HDD Files Are Turned into Shortcuts due to Virus?
All useful videos and documents suddenly become shortcuts after being cutting and pasting to your external backup drive? Cannot find any desired file, image or audio from your 320GB, 500GB or large USB hard disk, except some weird shortcuts? Or external hard drive has held numerous shortcuts after being used on your school/workplace/lab/pub computers? Need solutions to restore your shortcut files back with ease? It could be perfect if you also can find the best strategy to remove the existing viruses? OK! No matter whether your needed files are really hidden or damaged by possible viruses there, just immediately start to clean all dangerous viruses or thread with antivirus software or straight drive formatting process. And then, run USB hard disk data recovery software to take your wanted drive stuffs back.
How to Rescue Your External Drive Files Back?
Have installed any efficient antivirus software on your compute? If you do have such software there, just open it to scan this virus-infected external drive right now. Simply follow the software suggestions to delete or separate all suspicious files. But, if there is no similar antivirus tool or you do have no faith in the installed software, you can directly format this drive to remove all existing threats. And then, without dangerous viruses to cause some unwanted troubles, you can safely download drive file recovery software like 4Card Recovery to rescue your preferable documents, videos, audios and other more files. With such data recovery tool, you always can freely restore your inaccessible, lost, missing, deleted or unreadable files back from not formatted, formatted, reformatted, erased or virus-infected external drive.    
Here are steps for you to rescue your files back:
Step 1:
Connect your USB HDD to your computer and download data recovery software there. Go to the main screen of this software and specify a data recovery mode there.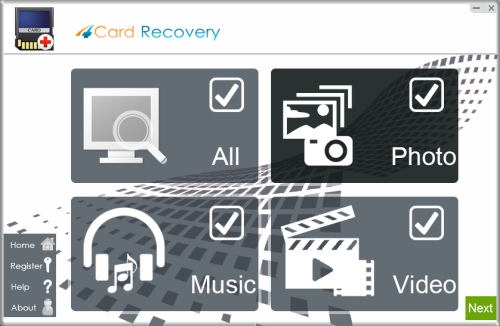 Select recovery options in the main interface
Step 2:
Start to scan this external drive.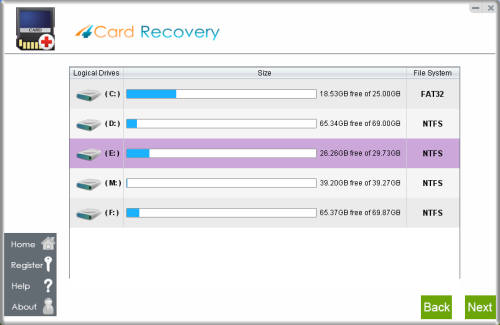 Select card to search photos off card
Step 3:
Preview all scanned drive files, pictures and documents, etc.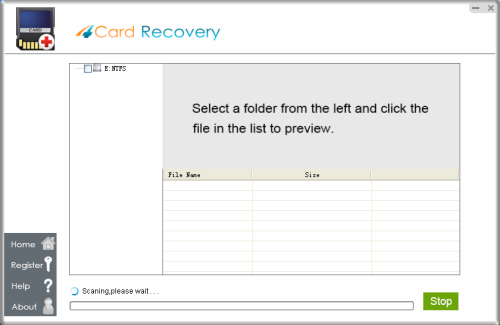 Wait while scanning lost photos, sometimes it takes about 20 minutes to scan a 32G card.
Tips: if it takes more than 2 hours to scan a 32GB card, you may stop the scanning and wait to see
what's already found. Since the card may contains bad blocks that takes longer time than usual.
Step 4:
Restore all preferable drive files back and save them all to computer partitions.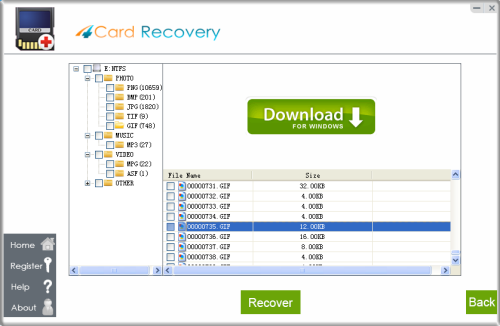 Preview lost photos and save found files. It would generate a folder to contain your lost data.
Please do not save the photo to the card where you lost them. Save them to your PC drive!

Download 4Card Recovery
Useful Tips:
* Clean all possible drive viruses or threats before you perform the drive data recovery processes.
* Write nothing else on this virus-infected drive to avoid data loss.
* Move restored drive files, videos and others to a different storage device in case of data recovery failures.
Other External Drive Data Recovery Stories:
Story1: Last time, my Seagate external hard drive had to be formatted after falling to hard ground. So, I followed the windows warning and formatted this drive immediately. And the, to take my stored drive videos back, I had tried many free data recovery software online and finally found this mentioned data recovery software worked well there and take most of my data back.
Story2: When some school paper files were deleted by my little brother, I had tried dozens of data recovery tools online and found not all of them worked as efficiently as they were introduced. But, I didn't give up and finally tried this 4Card Recovery and took nearly all my files back to finish my homework. It is worth trying.
Story3: My boy friend had ever also got a not formatted external drive and crazily searched for practical solutions to copy stuffs out from that drive. And then, finally review his desired drive pictures and videos by using your recommended data recovery software. Thanks!

Download 4Card Recovery