Summary
Here, this article will tell you how to rescue reserved USB hard disk documents, mails, music, movies, pictures and the likes back before or after you format the drive file system from FAT32 to NTFFS.

External Hard Drive Recovery by 4Card Recovery
Free download 4Card Recovery to take your desired information back from external hard drive that is in FAT32 format and needs to be converted to NTFS format as soon as possible.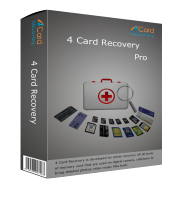 Need Convert Drive from FAT32 Format to NTFS without Losing Files?
Windows error message tells the computer doesn't support external hard drive with FAT32 format and suggests you to format it into NTFS? Consider converting FAT32 file system USB hard disk to NTFS due to the high performance of FAT32 and also worrying the remained drive contents will lose forever? Or merely have to format FAT32 external HDD to NTFS without losing anything inside? Have backed up all remained drive files well before any format? All right! Actually, it is pretty easy to rescue your desired drive data back before or after the drive file system converting process. Only the data recovery software will contribute a lot to help you scan this drive and rescue all possible files, videos, images and more back.
Restore FAT32 Drive Data before or after Any Format
Need to rescue inaccessible drive stuffs back before performing any format process on your NTFS format drive? Forget to prepare FAT32 external drive data backups before converting it to NTFS? OK! No matter whether you've succeeded in converting its file system format, avoid putting anything else to this external drive and use USB hard disk data recovery software like 4Card Recovery to restore your wanted drive documents, photos, films, texts and other stuffs back.
Here is the detailed tutorial to rescue your left drive files:
Step 1:
After completing the downloading process of this data recovery application, install and launch it well to pick out a data recovery mode from four, including "Photo", "Music", "Video" and " All".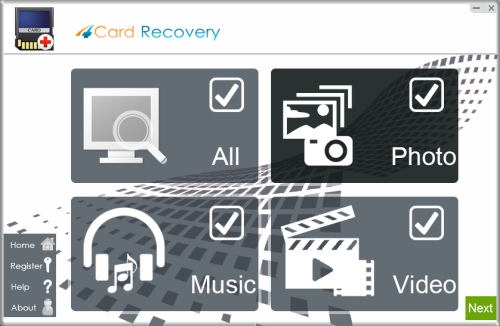 Select recovery options in the main interface
Step 2:
In the next software window, click your external hard drive that needs to be formatted from FAT32 to NTFS and follow guidance to scan it thoroughly.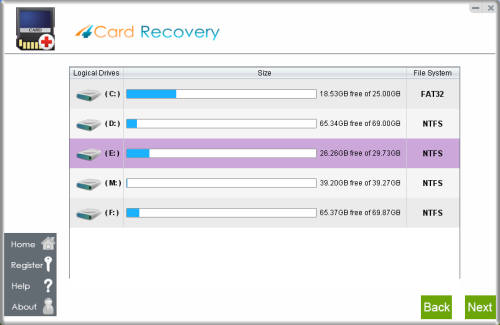 Select card to search photos off card
Step 3:
After viewing many scanned data shown in the next software window, preview all visible ones to mark desired ones out.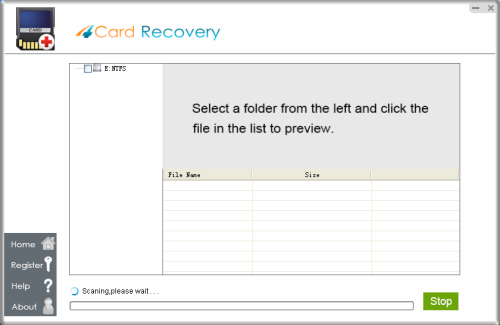 Wait while scanning lost photos, sometimes it takes about 20 minutes to scan a 32G card.
Tips: if it takes more than 2 hours to scan a 32GB card, you may stop the scanning and wait to see
what's already found. Since the card may contains bad blocks that takes longer time than usual.
Step 4:
After choosing all recoverable ones out, start to restore all wanted data back and assign another different storage media to hold it all.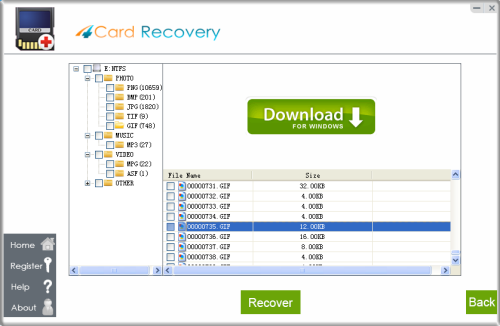 Preview lost photos and save found files. It would generate a folder to contain your lost data.
Please do not save the photo to the card where you lost them. Save them to your PC drive!

Download 4Card Recovery
Important Notes:
* When finding your external drive data is lost for your converting process, be sure not to use this drive any longer. Otherwise, you may really lose something crucial permanently.
* When starting to restore selected drive stuffs, be sure to choose a different drive or location to hold all restored data. Otherwise, you may also fail in taking important information back.
*When rescuing everything back, be sure to find two or more devices to make drive data backups well in the future.
Some Major Advantages of NTFS File System:
The NTFS file system has many advantages over the FAT32, like:
1). Much larger file transfer limit. The maximum file size of NTFS file system is up to 16TB. In other words, you nearly have no file transfer limit in using this NTFS format drive. However, the FAT32 file system drive often has a 4GB file transfer limit.
2). Support larger hard disks. The NTFS file system drive often support hard disks with larger capacities.
3). File and folder encryption. You can only encrypt files and folders stored on NTFS file system drives.
Of course, with the fast development of these two drive formats, the features can be changed differently. So, just choose your desired format after searching much related information.

Download 4Card Recovery