Summary
Data recovery software will be introduced here for you to recover data from Transcend portable hard drive that is dropped while being using on computer and now becomes inaccessible for drive logical damages, unformatted errors, RAW format error, etc.

Transcend External HDD Recovery by 4Card Recovery
Free download 4Card Recovery to quickly scan this dropped 1TB Transcend USB drive and rescue desired inaccessible drive files, pictures, texts, videos, songs and more information back.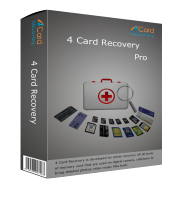 1TB Transcend Drive Cannot Be Accessed Now for Mistaken Dropping?
Transcend 1TB external hard drive bring you great convenience and helps you hold much useful business/personal information, such as business Word files, holiday images, self-made funny videos or mails, etc? However, recently, for some mistaken operations, this portable hard drive is dropped while you are doing your business/personal work on computer and now cannot be accessed any longer? Your drive accesses are also stopped by drive error problems, like drive not formatted error, logical damages, drive RAW format error and the likes? Find no duplicate to copy your desired drive contents back? All right! It is not a big deal! If your drive situation is as good as we've described above, you absolutely can perform a deep scan on this Transcend drive and rescue all possible original information back with Transcend data recovery software.
Detailed Instructions to Take Dropped Transcend Drive Information Back
It is always a bad and panic moment when you realize you've do something stupid accidentally to your 1TB Transcend portable drive, such as mistaken falling, deleting, formatting, reformatting, etc, and lost your cherished drive information without duplicates left. However, that terrible situation will not prolong. Actually, as long as your Transcend drive is not physically damaged, your left drive contents often can be taken back at the aid of external hard drive data recovery software like 4Card Recovery, which has been designed with four useful data recovery modes, easy-to-use interface, user-friendly hotkeys and more features. With this software, you often can have a great success in rescuing your original drive files, videos, songs and more.
Here are detailed instructions for you to apply this software well:
Step 1:
Attach this Transcend drive to your booted computer and download this data recovery software on other computer location. And then, run software to choose wanted data recovery modes from four.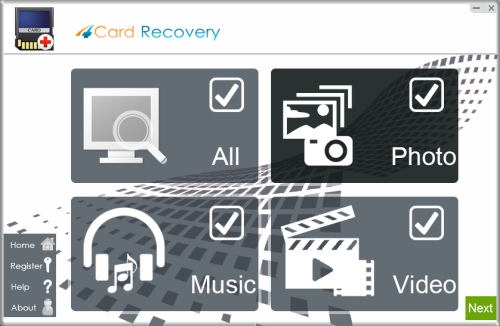 Select recovery options in the main interface
Step 2:
Scan this Transcend external drive to find all remained drive stuffs and mark out your useful ones by previewing scanned files.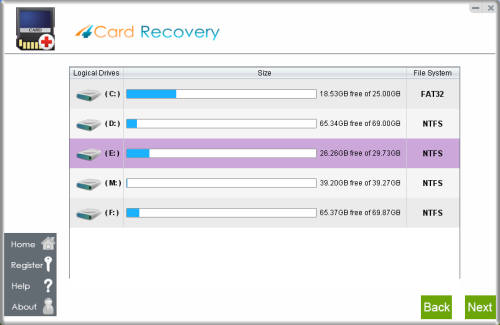 Select card to search photos off card
Step 3:
Preview and confirm all listed found drive information to choose the recoverable ones out.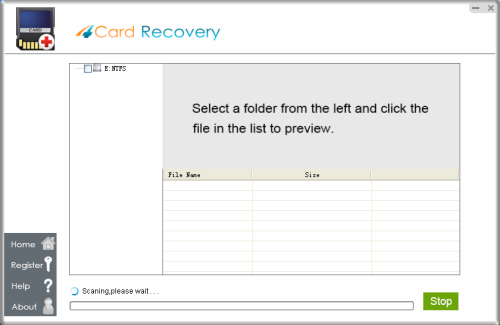 Wait while scanning lost photos, sometimes it takes about 20 minutes to scan a 32G card.
Tips: if it takes more than 2 hours to scan a 32GB card, you may stop the scanning and wait to see
what's already found. Since the card may contains bad blocks that takes longer time than usual.
Step 4:
Restore desired drive information and select a different device or location to store restored data.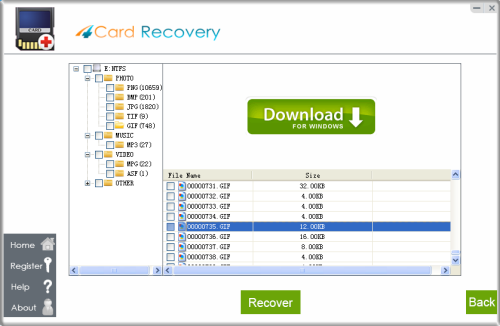 Preview lost photos and save found files. It would generate a folder to contain your lost data.
Please do not save the photo to the card where you lost them. Save them to your PC drive!

Download 4Card Recovery
Operation Tips:
* Never download or install 4Card Recovery on this Transcend drive before data recovery. Otherwise, your original drive data can be replaced forever.
* Never place restored drive information on this Transcend hard drive again in case of data recovery failures.
* Prepare two or mode copies of restored drive information to multiple drives or locations immediately.
External Drive Data Also Can Be Irrecoverable after That Dropping?
The mistaken falling can not only cause some logical damages or common drive errors to your Transcend portable hard drive, and also can make your drive physically broken, like corrupted drive USB port, damaged drive platters, completely dead drive, etc. When you do encounter the former situations, with the help of data recovery software, you also have great chances to take desired previous drive information back. However, without luck, when you get a physically broken USB drive, you may not be so easy to rescue your drive data. For example, with a corrupted USB port, you can easily change a new one to see whether your drive data is accessible or not. However, if your USB drive is unfortunately broken into pieces, you may have no any luck to get your drive data. 

Download 4Card Recovery