Summary
Use 4Card Recovery to restore your wanted drive contents back, when you've manually change a new USB drive port for your Seagate expansion drive to instead of the dead one and also cannot access the drive information for some drive errors.

Seagate External HDD Recovery by 4Card Recovery
Free download 4Card Recovery to rescue possible Seagate USB drive information back when there is a dead or damaged USB port found.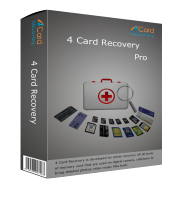 Seagate Expansion External Drive Seems to Get a Dead USB Port?
Hey friends! Mistakenly connect Seagate expansion portable hard drive to computer with a wrong USB cable and get a dead drive USB port? Accidentally fall or shock Seagate external drive with much precious information and break the drive USB Port unluckily? Or after ages of using Seagate USB drives on computer or laptops numerous times, finally obtain a corrupted drive USB port? Badly want to know whether it is possible to access this drive and also rescue inner drive information back? All right! Never panic! Even when you do get a dead drive USB port, you do have hope to rescue that drive and your inner data. Just immediately set out to change another new USB port for this Seagate drive and see whether it could be functionally read well there. If your drive access is still stopped by some Seagate drive errors, such as drive RAW file system error, drive not formatted error, drive logical damage errors, or the likes, simply download and run Seagate portable drive data recovery software to take chances.  
Change a New Drive USB Port & Restore Lost Drive Data with Software
How do you damage the USB port of your Seagate external hard drive, accidental shocking, falling, wrong using or long-time using, etc? OK! No matter how you get that dead USB port, your Seagate external hard drive may be not completely corrupted, like only getting some logical damages? So, immediately start to change a new USB port for this drive and connect it to your computer. What type of drive problems have you get? If it only could not be accessed for some drive errors, like RAW format issue, unformatted error or similar ones, simply download data recovery software like 4Card Recovery to take your left drive data out and format this drive to rescue your drive latter.
So, go follow below steps to rescue your drive stuffs back at first:
Step 1:
Get this data recovery software and run it on your computer with this Seagate external drive attached. Take a proper data recovery mode out to scan your plunged drive when the main screen is opened.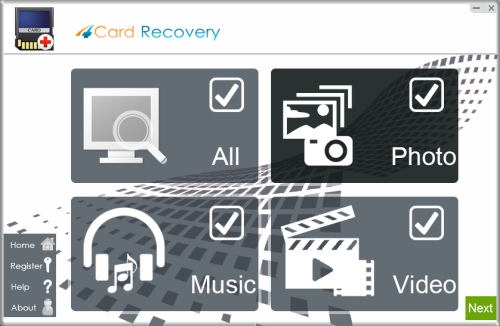 Select recovery options in the main interface
Step 2:
Scan this external hard drive and see whether all scanned stuffs are your needed ones.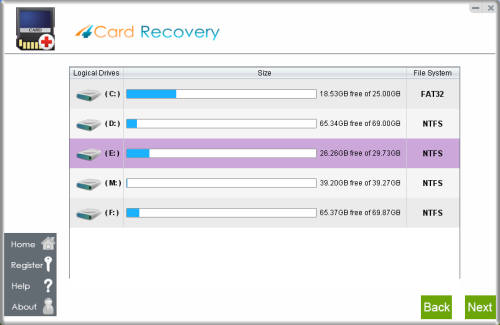 Select card to search photos off card
Step 3:
You can preveiw some files after scanning.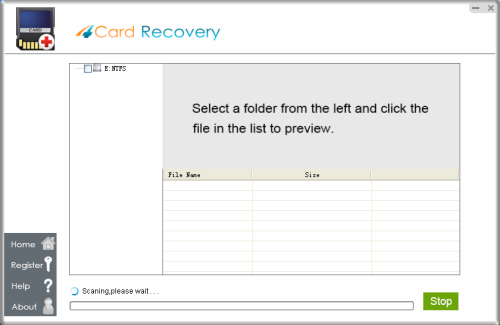 Wait while scanning lost photos, sometimes it takes about 20 minutes to scan a 32G card.
Tips: if it takes more than 2 hours to scan a 32GB card, you may stop the scanning and wait to see
what's already found. Since the card may contains bad blocks that takes longer time than usual.
Step 4:
Restore all possible Seagate stuffs to another computer partition or drive instead.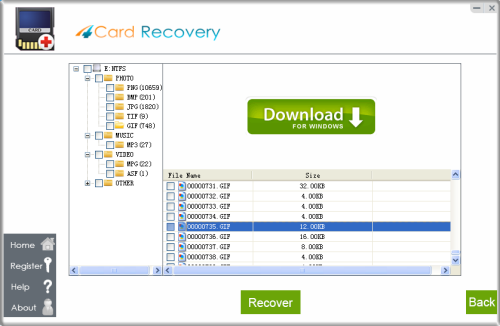 Preview lost photos and save found files. It would generate a folder to contain your lost data.
Please do not save the photo to the card where you lost them. Save them to your PC drive!

Download 4Card Recovery
Note:
* Write no new file, folder and software on this Seagate expansion drive after you've fished changing drive USB port.
* Move all restored drive information to another storage device to avoid data recovery failures.
* Prepare drive data backups to avoid such physical drive damage problems. 
* If you do not know how to change the USB port, simply find some helps over the internet or ask some experts around you.
USB Drive Still Could Not Be Recognized When Being Changed with New USB Port?
Even after changing a new USB port, your Seagate external hard drive may be also unrecognizable on your computer. In other words, your drive may be already completely dead and cannot be restored again. If you do meet such similar situations, OK! Only ask some data recovery experts for help. Even when you do prefer to pay much money, you may also rescue nothing back, since that drive is seriously or mechanically damaged. Just learn a lesion to do no such improper things to drive with crucial data again.

Download 4Card Recovery