Summary
Continue your reading to restore preferable digital camera, camcorder, mobile phone and other electronic device memory card data for free before you really start to fix the memory card RAW file system error with formatting process.

Memory Card RAW Format Recovery by 4Card Recovery
Free download 4Card Recovery to take original documents, SMS, mails, videos, songs and other files back from memory card with RAW file system problems.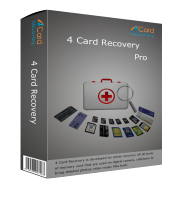 How to Open RAW Memory Card or Memory Stick without Formatting?
Windows computer shows a message reporting that your memory card needs to be formatted after a rude extraction? Attached memory stick is in RAW Format and asks you to format it for restoring its common use? Or have heard data recovery software is able to rescue original files back from not formatted memory card and search for free recovery software for memory card over the internet now? OK! Never rush yourself to do anything unfamiliar in case of farther data loss. In such RAW memory card memory stick data loss situations, you are supposed to extract your previous card contents with memory card data recovery software before you get rid of the RAW format error with formatting process.
Simple Instructions to Restore Data from Memory Card or Memory Stick in RAW
Generally, the formatting process is really necessary to help fix the memory card or memory stick RAW file system error or not formatted error. However, to avoid some unexpected worse situations, like permanent original card photo loss, you are also supposed to rescue left information with memory card not formatted error recovery software like 4Card Recovery before any formatting process.
Follow below instructions to get your original card contents back with free 4Card Recovery:
Step 1:
Download the free version of this software and run it well on your PC, not your attached RAW memory card. Open its main screen and choose a practical data recovery mode from four ones.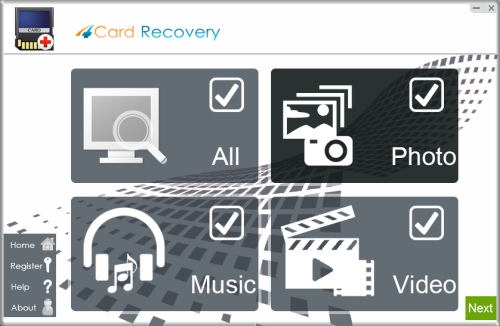 Select recovery options in the main interface
Step 2:
Specify this memory card that has RAW file system error and start to scan this card with data recovery software.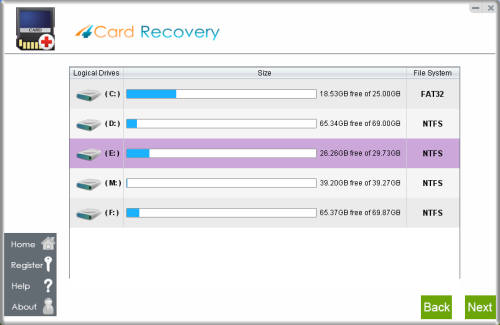 Select card to search photos off card
Step 3:
When the scanning process is over, you will see all found memory card stuffs are listed on the software screen. Simply preview them and select wanted ones out, when you need rescue some photos, documents, mails, messages and the like viewable files.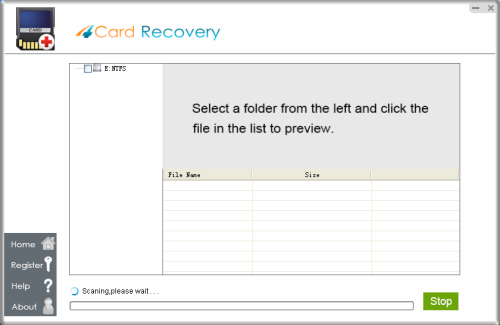 Wait while scanning lost photos, sometimes it takes about 20 minutes to scan a 32G card.
Tips: if it takes more than 2 hours to scan a 32GB card, you may stop the scanning and wait to see
what's already found. Since the card may contains bad blocks that takes longer time than usual.
Step 4:
Set the local folders as the destination locations to hold your retrieved memory card information before making data backups.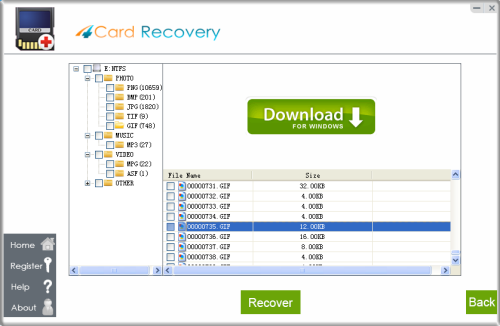 Preview lost photos and save found files. It would generate a folder to contain your lost data.
Please do not save the photo to the card where you lost them. Save them to your PC drive!

Download 4Card Recovery
You Should Also Know:
* Download and launch data recovery software on local partitions or other hard drives in case of overwriting original memory card contents.
* The videos often cannot be previewed before the final restoring process. So, always check the photos, files, messages and the likes well in advance.
* Choose other flash drives, computer partitions, memory cards, CDs and more to create memory card data backups well from now on.
How to Access RAW File System Memory Card without Formatting?
Memory card suddenly becomes inaccessible for memory card RAW file system error, memory card not formatted error, memory card error or memory card logical damages, etc. When one is really facing similar card problems, the answer about whether he should format this memory card immediately could be different according to distinct conditions. When there is nothing useful reserved inside, simply format this memory card to restore its common use. However, when there are tons of important stuffs left, always remember to rescue the inner data back before format.
Memory Stick RAW Error
The memory stick RAW error is talking about the memory card with RAW format. When this memory stick with much data is detected as RAW fie type, nothing inside could be read or accessed without recommended formatting process. However, to fix this RAW file system error with formatting, the stored card data also could be completely erased. That's the problem. So, if someone is really unaffordable to lose anything inside, to restore card data with data recovery software at first is always important to reduce the chances of unnecessary data loss.
Memory Card Recovery Software Free
In order to help users cope with different data loss problems, many memory card data recovery software is created and highly developed in these days, like the above mentioned RAW file system recovery software. However, since they are designed by different companies for diversified reasons, the bundled features of them are also different. Some of them are paid, some of them are free, some of them are designed especially for memory cards only, some of them are especially created for flash drives, hard drives, external hard drives only, etc. Simply choose your desired free memory card data recovery software, like 4Card Recovery, as you wish.

Download 4Card Recovery