Summary
External drive data recovery software like 4Card Recovery can help rescue your transferred, deleted, invisible or lost data from USB hard disk with not formatted errors, unsupported RAW drive format errors, virus-infected problems and the likes.

Unformatted External HDD Recovery by 4Card Recovery
Free download 4Card Recovery to rescue your transferred information back from external hard drive that has disabled your access with not formatted error messages.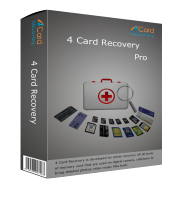 How to Get Transferred Files from Unformatted External HDD?
Have transferred all old drive stuffs to newly purchased external HDD and now cannot view any of them for Window not formatted error message? Have directly moved all previous computer files, folders, programs and games to USB hard disk for backing up and also finally have been asked to format this drive? Or merely plan to temporarily store the only one copy of everything precious on external disk before using it on another computer/laptop and eventually realize you are stuck by drive unformatted error warning? Really want to rescue your transferred drive files back and go on finishing your drive data plan? OK! No matter whether you've been forced to format this drive or not, the inaccessible or lost USB drive files, images, videos, audios and more are not really gone. With the help of unformatted external HDD data recovery software, you can take your files back with ease.
Take Transferred USB Drive Data out with Data Recovery Software
When USB hard drives have been used frequently on different computer or laptops, there are really many chances for them to be damaged and get these drive not formatted errors which can bring you drive data loss problems due to your improper operations. But, even as you've already formatted this drive without considerate thinking, you also have no need to worry. Your lost or inaccessible external drive information often can be easily restored with data recovery software like 4Card Recovery, which can help restore all types of drive stuffs from different branded drives.
Here is the step-by-step example for you to rescue your transferred files back:
Step 1:
Download and install software on your computer. And then, click this program to choose one needed modes from four available ones.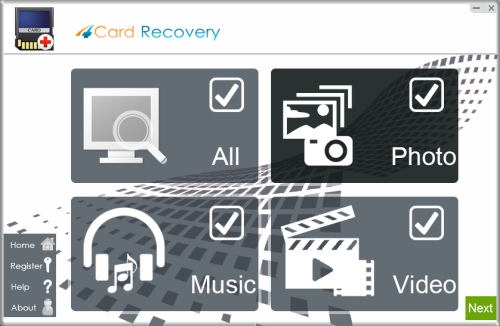 Select recovery options in the main interface
Step 2:
 Scan this USB drive by clicking the "Next" button after your specifying this external drive from other ones.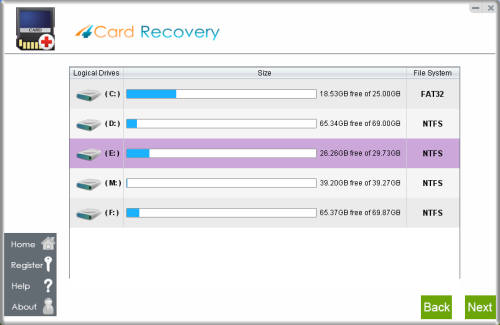 Select card to search photos off card
Step 3:
Preview scanned-out drive files and pictures. Just carefully check them all to choose the recoverable ones out only.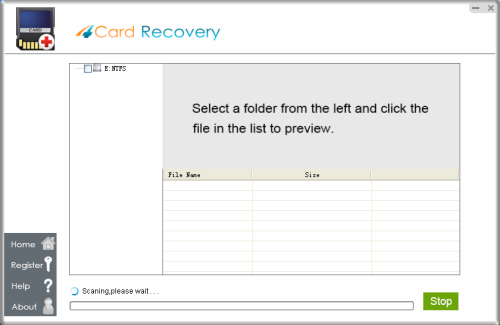 Wait while scanning lost photos, sometimes it takes about 20 minutes to scan a 32G card.
Tips: if it takes more than 2 hours to scan a 32GB card, you may stop the scanning and wait to see
what's already found. Since the card may contains bad blocks that takes longer time than usual.
Step 4:
Select computer partition or drive and restore your desired drive data there.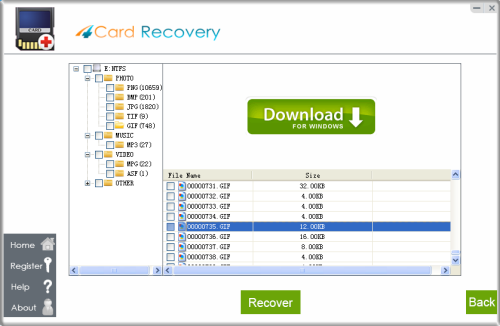 Preview lost photos and save found files. It would generate a folder to contain your lost data.
Please do not save the photo to the card where you lost them. Save them to your PC drive!

Download 4Card Recovery
Data Recovery Tips:
* Save or upload all new computer information to another storage device, not this unformatted USB drive.
* Download and install data recovery software on computer partition.
* Preview scanned drive files, images and messages, etc, to choose your desired ones only.
* Locate no restored drive data on the same external drive in case of data recovery failures.
External Hard Drive Data Recovery Discussions:
Discussion1: Nice post! Last time, my Verbatim external hard drive also got the same drive unformatted error for instant power loss, the computer was suddenly shut down and booted functionally again when the power was back. However, the attached drive seemed to be damaged and didn't allow me to access anything there without format. It was really frustrating. But, fortunately, I had got great helps from many posted data recovery programs and rescued most of drive information back. This software really worked well on my drive.    
Discussion2: When trying to rescue my information from USB flash drive that asks to format, I have used many such data recovery tools. With luck, I have taken nearly all my drive songs, files and games back.
Discussion3: Last month, without knowing much about data recovery technologies, I kept on using my formatted PNY portable drive and finally only got part of my original drive contents back. So, if you do encounter such data loss issues, always remember not to place anything new on the same drive to avoid data overwriting.

Download 4Card Recovery