Summary
Here is an easy-to-use solution for you to restore desired camera information back from memory card that cannot work efficiently in digital camera due to not formatted error.

Not Formatted Camera Memory Card Recovery by 4Card Recovery
Free download 4Card Recovery to take your precious pictures, videos, files and more back from digital camera memory card that needs formatting.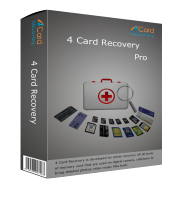 Camera Memory Card or Memory Stick Requires Formatting & Cannot Working Efficiently Now?
The new SD card cannot be used in digital camera since it requres formating before any access? The long-time used Micro SD card (also called TF card) cannot be opened on PC for card not formatted message? The CF card cannot work efficiently in digital camera for memory card errors and asks for formatting? Or other types of camera memory card, like SDHC cards, SDXC cards, MMC cards and memory stick etc, just cannot be accessed normally there for else reasons? Want solutions to fix such memory card or memory stick unformatted error and also extract left camera photos, songs, videos and more out smoothly? OK! Firstly, take this storage card out from digital camera and confirm it will not be written with any new information in the next minutes or hours. And then, run camera memory card data recovery software to take your original camera stuffs back as many as possible.
Simple Steps to Access Not Formatted Camera Memory Card or Memory Stick Data
When memory card or memory stick says to format on your digital camera somehow, remove it out from digital camera and stop doing any data writing process on the same card in case of any farther data loss. Of course, some read-only processes or operations are all right! And then, to restore your concerned original camera pictures, documents, videos and the likes back, you also need the help of memory card "needs formatting" error recovery like 4Card Recovery, which is ready-only and easy-to-use data recovery software with four well-designed data recovery modes. With this software, it will not be a troublesome process to restore previous camera memory card or memory stick contents back.
Here are detailed steps for you to rescue your memory card/stick stuffs:
Step 1:
Run this software on your PC after downloading. Also remember to firstly connect this camera memory card/stick to the same computer with a card Reader. And then, on the main interface, choose a proper data recovery mode out.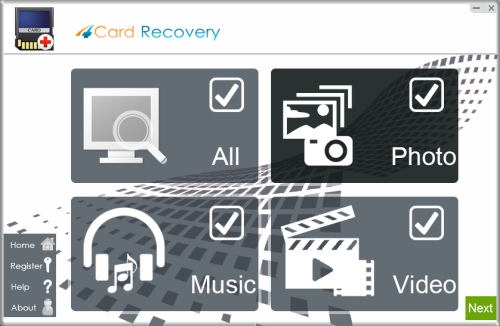 Select recovery options in the main interface
Step 2:
Highlight the drive letter of this attached card and start scanning this card.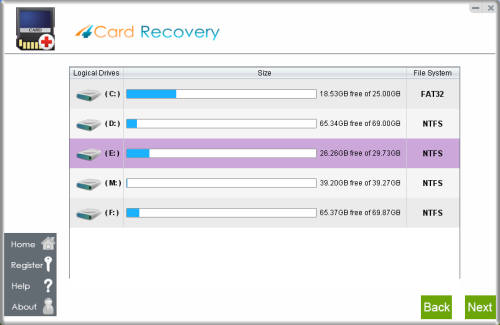 Select card to search photos off card
Step 3:
Click the listed stuffs to preview and mark the wanted ones out with patience.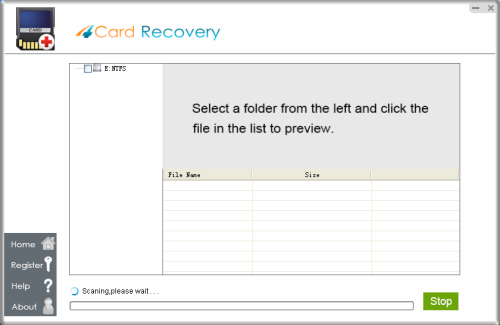 Wait while scanning lost photos, sometimes it takes about 20 minutes to scan a 32G card.
Tips: if it takes more than 2 hours to scan a 32GB card, you may stop the scanning and wait to see
what's already found. Since the card may contains bad blocks that takes longer time than usual.
Step 4:
Before rescuing everything back, also set a different storage device or location as the target destinations. Save all restored stuffs there.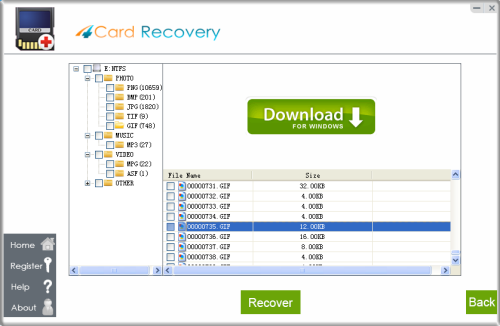 Preview lost photos and save found files. It would generate a folder to contain your lost data.
Please do not save the photo to the card where you lost them. Save them to your PC drive!

Download 4Card Recovery
Pay Attention:
* Before any data recovery process, you are not forced to pick that memory card/stick out from camera to avoid data loss troubles. As long as you are sure you will add or move anything else there, just leave it there as you hope.
*After data recovery process, you are supposed to pick another different storage device to instead of this camera card in case that any of your restored data can bring your more troublesome data recovery failures.
*No matter how many storage devices you have, always save two or more copies of your precious camera information on different drives or locations well in the future.
Memory Stick or USB Memory Stick Not Formatted Error Solution
With the related data recovery software, you can easily take your deleted or lost contents back from not formatted memory stick or USB memory stick as you wish. However, such data recovery tools do not have a function to help you remove that unfamiliar not formatted error. So, in this moment, you have to try fixing it by yourself. But, also do not panic! You do not need other related software or do more unfamiliar operations. Simply format this memory stick or USB memory stick on your digital camera or computer after backing everything important up well and confirm whether this storage device could work efficiently again. Simply inert this memory stick or USB stick to your computer and check whether you will receive other errors, like RAW file system errors, logical damage errors, virus-infection and more.
Memory Card or SD Card Is Not Working in Digital Camera?
Except the memory card or SD card not formatted error, many other causes also can make one memory card or SD card unworkable on a digital camera, like some logical damage causes and some physical damage causes. The logical damage causes, like RAW file system error, not formatted error, memory card error, virus error, sudden power loss or etc, often bring no serious problems and can be fixed with simple formatting process. The lost or inaccessible camera memory card or SD card data also could be restored with data recovery software. But, the physical damage causes, like burnt memory card or SD card, bent memory card or SD card, dropped memory card or SD card and broken memory card or SD card, often are really bad for users and also could not be fixed. When similar problems happen to you, learn impressive lessons to make data backups well and also purchase a new camera memory card instead.
Memory Card "Needs Formatting" Error Message?
Situation1. Hello! I have used an 8GB SDHC card on my Nikon digital camera and hold many vacation photos there. But, last night, when trying to upload these images to my computer, it said this memory card needed to be formatted. However, when trying to format this drive, it told me this memory card could not be formatted for write protection error. What's going on there? What does that write protection error mean? What can I do to rescue SDHC card photos back?
Situation2. Hey, last night, my Canon PowerShot G16 digital camera told that it could not read my attached 4GB SD card. It just said there is no memory card detected after plunging it well there. So, I had to try it again on my computer with card Reader. And this time, I also got another memory card not formatted error message and was not allowed to access anything inside without format. Do you have any suggestion for me to rescue my SD card data? Is it still possible for me to repair this SD card? Thanks!

Download 4Card Recovery