Summary
Learn a safe solution to restore your digital camera photos, videos, files and others from inner used memory card, though this camera memory card now needs to be formatted to FAT32 for an incompatible RAW file system error.

RAW Format Memory Card Recovery by 4Card Recovery
Free download 4Card Recovery to rescue your desired digital camera information back when your camera memory card seems to be corrupted and asks you to format its file system format from RAW to NTFS.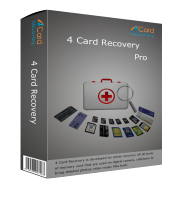 Digital Camera Asks to Format RAW Memory Card to FAT32 without Extracting Data?
Digital camera information cannot be accessed normally now since the inner used memory card stops working functionally and asks you to convert RAW to FAT32? Wonder to format this camera memory card and also concern about the camera pictures, videos, files and other stuffs inside? OK! Don't rush to format or do anything else to this digital camera memory card. As with this RAW file system error, you are always supposed to do two necessary things: restore the precious camera contents and format its file system from RAW to FAT32. So, in this moment, merely follow the below guidance and try to recover your memory card data step by step.
Do Not Format Anything & Restore Camera Pictures, Videos, Files & More at First
The formatting process is really a fast method to remove the camera memory card RAW file system problem, but, also can erase your desired original camera photos, videos, documents and other files. So, in order to take your wanted camera stuffs back with a lower risk, you'd better download camera memory card data recovery software like 4Card Recovery before any formatting process. Therefore, in this moment, take that memory card out from your digital camera and run free downloaded data recovery software to restore your camera photos, video and other files like this:
Step 1:
Connect this camera memory card to your PC after free downloading and installing this software on the same computer well. And then, choose a practical data recovery mode.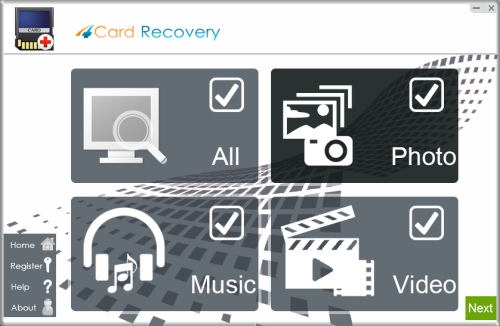 Select recovery options in the main interface
Step 2:
Select this RAW format camera memory card out from all listed local disks and let software scan this memory card.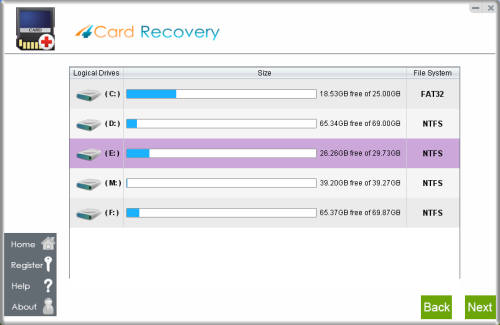 Select card to search photos off card
Step 3:
Find and mark all useful camera photos and files out after previewing all scanned information.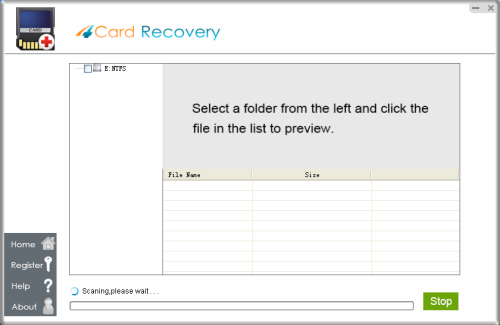 Wait while scanning lost photos, sometimes it takes about 20 minutes to scan a 32G card.
Tips: if it takes more than 2 hours to scan a 32GB card, you may stop the scanning and wait to see
what's already found. Since the card may contains bad blocks that takes longer time than usual.
Step 4:
Restore all wanted camera memory card to the selected target device or location.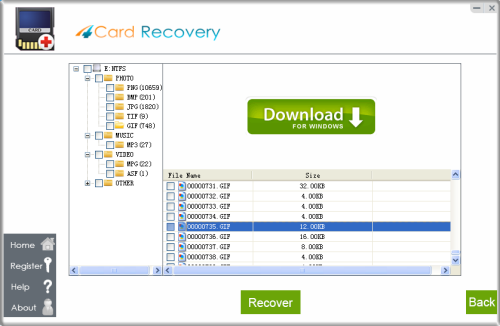 Preview lost photos and save found files. It would generate a folder to contain your lost data.
Please do not save the photo to the card where you lost them. Save them to your PC drive!

Download 4Card Recovery
Useful Tips to Learn:
* Before you make sure all desired memory card data are stored successfully and can be opened or used normally, do not save the new information or the restored original data on the same RAW memory card
* Before you really start to restore all scanned memory card contents back, preview all found stuffs and see how many of them are recoverable.
* Forget what you often do to protect your camera memory card data. From now on, prepare more devices or online storage accounts to make data backups well all the time.
Convert RAW Memory Card, USB Flash Drive or External HDD to FAT32 or NTFS 32
Generally, Windows computer laptops often recognize memory card, external HDD or USB flash drive with FAT32 or NTFS file system, not the present displayed RAW format. So, in order to open or use your memory card effectively as before, you are always supposed to turn the RAW format to your desired FAT32 or NTFS at first. Hence, in this moment, when rescuing your all desired camera images, movies, and other files back with success, format this RAW memory card, USB thumb drive, external hard drive to FAT32 or NTFS as you are suggested. Remember to change the target file system to your required NTFS or FAT32 before starting the quick/full formatting process.
How Do I Format Memory Card or SD Card for My Camera?
It is always not troublesome to format camera memory card, like different SD cards, SDHC cards, SDXC cards, CF cards, MMC cards, memory sticks and more. In your case, you can have three ways to safely format your camera memory card. Firstly, connect this memory card or SD card back to your digital camera and find the camera "format" option. If you are really familiar with this digital camera, you only need seconds to find that formatting function out, right? Secondly, after the data recovery process, do not rush to disconnect your RAW memory card or SD card. Simply right click it in "My Computer" and click "Format". Till now, this is the easiest one to continue. Thirdly, select a professional format tool online to go on. With more professional features, such format software also could help you format this camera memory card successfully. Choose one of them according to your needs.
Corrupted Memory Card Recovery
Memory card gets damaged for many reasons and bring you camera data loss troubles, like:
* Digital camera is suddenly turned off for low power or power loss.
* Remove camera memory card out from camera while it is still in use for data transformation.
* Remove camera memory card out from computer when you are still uploading or downloading data.
* Use a new memory card on a camera to store new videos, files and videos before any format.
* Use a memory card on different cameras frequently.
No matter which one of them you've meet, do not rush to discard this camera memory card and apply data recovery software to scan this camera memory card. And check whether there are still recoverable files left.

Download 4Card Recovery