Summary
Simple tutorial is introduced here for you to restore lost memory stick data back, when you have received an unrecognized RAW format error and formatted this attacked memory stick in later seconds without copying anything inside out.

Unrecognizable RAW Memory Stick Recovery by 4Card Recovery
Free download 4Card Recovery to take your preferable files, images, songs and other information back from memory stick that you've formatted for converting its RAW format to NTFS or FAT32.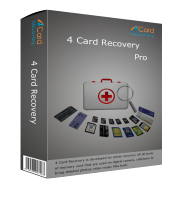 Memory Stick or Memory Card Says to Format Before Any Access?
Insert memory stick or memory card to mobile phones, digital cameras or computers and find this storage card has an unrecognized format? Memory stick or Memory card needs to be formatted for turning its RAW file system to NTFS or FAT32 and remove not formatted error? So, without hesitation, just have performed the formatting process on this memory stick or memory card and finally realized this formatting process also has wiped whole memory card data without any sign? Need solutions to rescue removed card data back after that format? All right! No matter what you've done to this memory stick or memory card with RAW format error, simply go on reading this article that will show you the RAW memory card data recovery solutions in details and follow its guidance to recover memory card photos.
Restore Photos from Memory Stick or Memory Card Formatted by Mistake
When memory stick or memory card has been detected with an incompatible RAW format, the bad news is that you often cannot access this storage device before changing its RAW format to back to previous NTFS or FAT 32. However, the good news is that you still have chances to take your original memory card photos, videos, files, mails and more contents back, no matter whether you've formatted it yet. Why? Before or after that formatting process, your left information is not really erased and could be restored easily with the help of memory card data recovery software like 4Card Recovery, as long as this memory card or memory stick has not been rewritten by anything new since then. Therefore, do not focus on that formatting process right now and simply free download RAW format card data recovery software to rescue your desired documents, pictures, songs or videos, etc.
Follow simple steps to use this 4Card Recovery on your memory stick:
Step 1:
Connect your memory card or memory stick to your computer with its mobile phones, cameras or other devices and install your downloaded data recovery software on the same computer partition.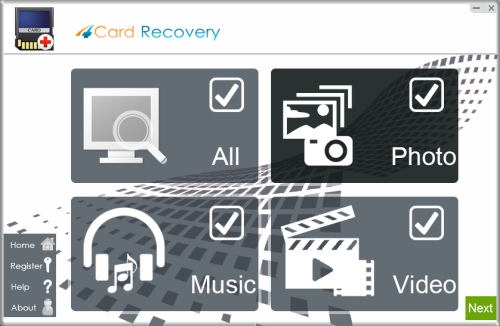 Select recovery options in the main interface
Step 2:
Run this data recovery software to choose a practical data recovery mode when you are asked to land one from four.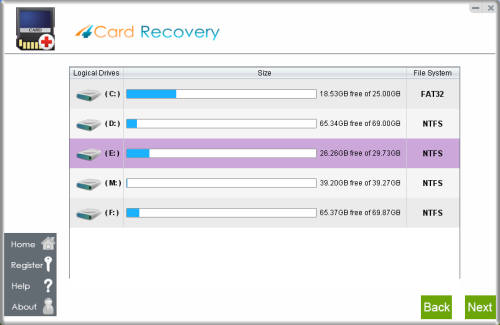 Select card to search photos off card
Step 3:
Click this unrecognizable storage card and start the scanning process. When the scanning process is over, select your desired ones to preview and mark the useful ones out.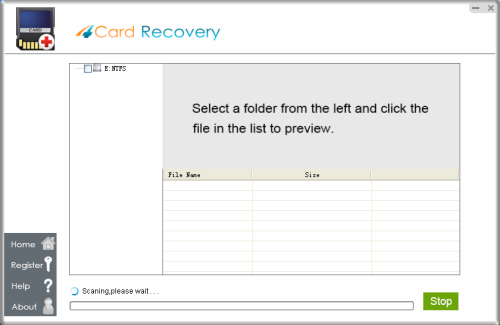 Wait while scanning lost photos, sometimes it takes about 20 minutes to scan a 32G card.
Tips: if it takes more than 2 hours to scan a 32GB card, you may stop the scanning and wait to see
what's already found. Since the card may contains bad blocks that takes longer time than usual.
Step 4:
Before restoring everything original back, also choose a local folder, external drive or flash drive as the destination device.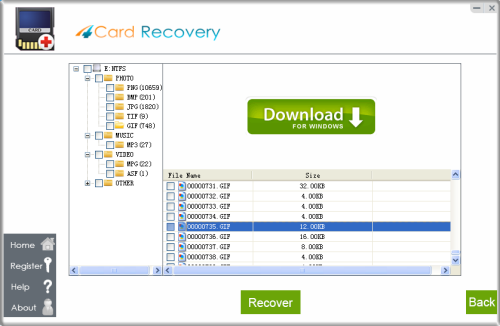 Preview lost photos and save found files. It would generate a folder to contain your lost data.
Please do not save the photo to the card where you lost them. Save them to your PC drive!

Download 4Card Recovery
Useful Tips to Follow:
* Ensure that you've not rewritten this memory card or memory stick to cause more data loss.
* Ensure that you've downloaded and installed this data recovery software on a different storage device to avoid farther data loss.
* Ensure that you've selected another different storage device to hold all restored stuffs in case of data recovery failures.
* Ensure that you've prepared one or more drives or memory cards to make data backups in the future.
Memory Card Data Recovery Software
Memory stick data recovery software is a common program that can help you deal with different data loss problems and rescue all possible original memory stick data back. Except the mentioned memory stick, such data recovery software, just like the mentioned 4Card Recovery, also works on other memory cards, like CF cards, SD cards, Micro SD cards, Mini SD cards, memory stick, MMC cards, etc, and some external HDD or USB flash drives as well. Its well-designed four data recovery modes also help people restore different types of memory stick stuffs, like photos, music, videos and other files.
Fix Unsupported File System Memory Stick
The unrecognizable format error often talks about the memory stick RAW format error saying: "Memory stick is blank or has a unsupported file system…", since the memory stick with such unsupported RAW file system often cannot be normally recognized on any computer or laptop before any format. Without the suggested formatting process, you often cannot access this memory stick and needlessly to say, you can use, copy or delete anything inside. However, the memory stick with FAT32 or NTFS format can have completely different results. That's also why you are suggested to format this memory stick into NTFS or FAT32. Therefore, after rescuing your desired information back, never forger to restore its normal file system format back.
Memory Card Says It Needs Formatting?
Have formatted this memory stick without extracting anything out at first when memory card says it needs formatting for an unrecognizable RAW format? Be calm!!! Your erased memory card information, including pictures, films, messages, documents, files, etc, is still stored on the original card and only hidden somewhere. Without professional skills to find all your previous stuffs back manually, you can easily use data recovery software to help yourself out. Of course, if you do have much more faith in professional data recovery experts or agencies, you also can spend money to consult them.

Download 4Card Recovery