Summary
This guide will introduce you how to restore data from memory card that is asking to format so that you can freely format this device to fix its possible problems and open/access it for latter use.

Memory Card Data Recovery by 4Card Recovery
Free download 4Card Recovery to take original photos, videos, files and audios back from memory card that needs to be formatted immediately for not formatted error, RAW file system error, memory card error, logical damages and the likes.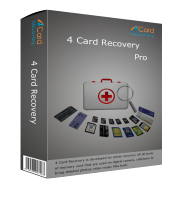 Windows Wants to Format Your Memory Card or SD Card before Opening It?
Badly need to access memory card or SD card on your laptop/computer for uploading or downloading several useful folders? However, Windows says it needs formatting and disables your access before any format? Really want to open this memory card or SD card with formatting and also losing nothing inside? OK! Be Calm! In common use, the memory card asks for formatting occasionally due to some memory card or SD card not formatted errors, unsupportable RAW file system errors, memory card errors, virus-infection, card logical damages and the likes. It is not a big deal! To be honest, many memory card or SD card users have been troubled by such inaccessible flash memory card data loss problems in last years. You are not alone. Simply clam yourself down and try to recover your memory card data with data recovery software so that you can freely access this storage card latter.
Learn to Rescue Pictures, Files, Videos & More from Not Formatted Memory Card or SD Card
No matter why your memory card or SD card reports it needs formatting, your left card information, like images, audios, videos, files, messages and more, is often not able to be accessed or opened before you really finish the suggested memory card formatting process. But, that doesn't mean you can only rescue everything inside back after that formatting process. Oppositely, even without memory card or SD card quick format or full format, you also can firstly retrieve your card files with the help of memory card not formatted error recovery software like 4Card Recovery. Therefore, from now on, temporarily forgetting that memory card error and free download data recovery software to get everything previous back:
Step 1:
Install and launch your downloaded data recovery software well on your PC. From its main interface, choose your desired data recovery mode from four to restore your original photos, files, videos, songs and others back.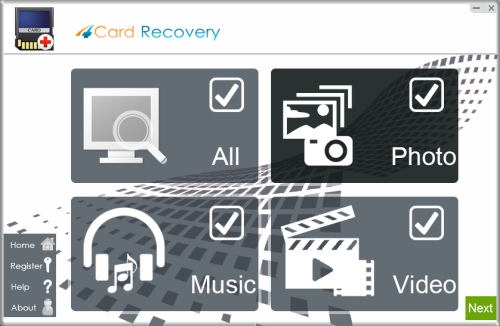 Select recovery options in the main interface
Step 2:
From the next media interface, highlight your connected not formatted memory card or SD card which often is detected as a local disk and start to scan this card.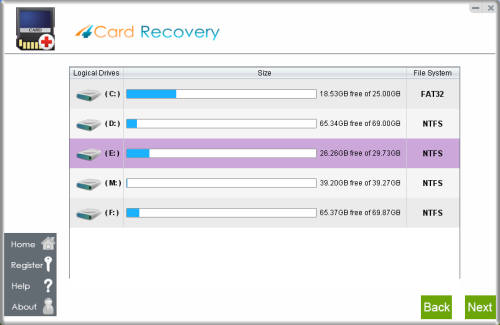 Select card to search photos off card
Step 3:
After the scanning process, preview all scanned files to select the useful ones or ignore the previewing function and directly go to the data restoring process.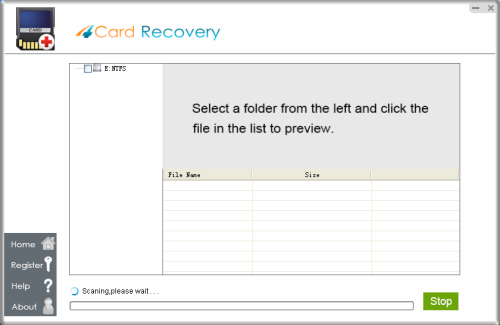 Wait while scanning lost photos, sometimes it takes about 20 minutes to scan a 32G card.
Tips: if it takes more than 2 hours to scan a 32GB card, you may stop the scanning and wait to see
what's already found. Since the card may contains bad blocks that takes longer time than usual.
Step 4:
Restore wanted memory card stuffs back and save them all on another storage device.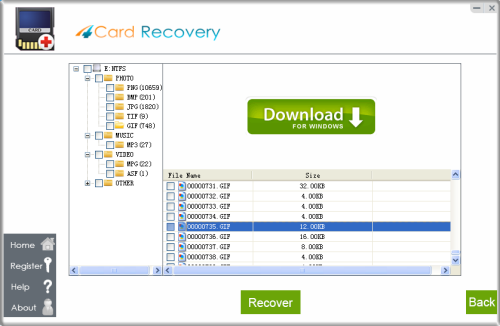 Preview lost photos and save found files. It would generate a folder to contain your lost data.
Please do not save the photo to the card where you lost them. Save them to your PC drive!

Download 4Card Recovery
Related Tips:
* When you realize that formatting process could be a great danger to permanently erase everything inside that memory card or SD card, stop using it immediately and take it out from your mobiles, cameras, camcorders or other devices.
* When you do have some photos, files, messages and the likes left on this unformatted storage card, you can easily preview them after scanning and choose the recoverable ones out.
* When all possible information is restored back, click "Save" button to store them well on a different storage device, like computer internal/external drives, USB thumb drives or other memory cards, etc.
* When everything original is restored back successfully, also prepare two or more copies of these restored stuffs to make data backups on separate drives or locations well.
How to Open RAW Memory Card or SD Card without Format?
Up to now, have you already restored all your wished memory card or SD card information and also save several backups well on other drives? OK! Now, whatever happens, stop worrying about your flash memory card data. To open or access this memory card or SD card, you can easily format it to go on. Do you know how to format a memory card or SD card on your computer? Simply find this card out in "My Computer" and right click this card there to choose "format" in the drop-down option list.
Recover Data from Memory Card
Except the mentioned not formatted memory card data loss issues, data recovery software also helps recover missing, deleted, missing, inaccessible or erased data from memory card with diversified data loss issues, like accidental deleted data loss issue, memory card quick format issue, memory card full format issue, unexpected memory card virus-infection issue, dropped memory card photo loss issues, hit memory card file loss issue or shocked memory card video loss issue, etc. No matter how troublesome your memory card data loss problem is, never give up restoring your original data at the beginning and give similar data recovery software a good try!
Memory Card Says It Needs Formatting
Situation1: Hey, 64GB Sony Micro SDHC card says it needs to be formatted. In order to use it in the near future, I just format this memory stick and also stupidly forget to back up all my taken photos on computer drives. Now, though the memory card is restored, my left photos and videos are still missing. Can you help me get them back from this formatted Sony memory card?
Situation2: Hello, my Samsung camera SD card is asking to format and also holds many sports photos. I am really not familiar with such SD card data loss problems. Do I need to format this camera memory card immediately? Does that formatting process have some negative effects to my left photos? Is it possible to rescue my camera card images after format?

Download 4Card Recovery