Summary
4Card Recovery makes it possible to restore all possible digital camera photos, videos, documents, music and more back when the attacked camera memory card is write protected and asks you to format before any access.

Unformatted Write Protected Memory Card Recovery by 4Card Recovery
Free download 4Card Recovery to scan your camera memory card and rescue reserved camera data back after you've smoothly removed the memory card write protection error.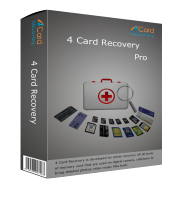 Cannot Format Write Protected Camera Memory Card/Stick?
When using digital camera memory card/stick on your computer with a card Reader, you just get an error message saying you need to format the memory card/stick before you can use it? When trying to format this memory card/stick, you also receive another error message telling: "The disk is write protected. Remove the write protection or use another disk"? And now, do not know what should be done next and also wonder whether it is still possible to recover camera card data, including inner photos, videos, documents and the likes? All right! Do not panic! Your memory card/stick problem is not as difficult as you think. Honestly, in your case, the key point is to disable the device write protection function. After removing that write-protection error, simply retrieve your desired camera card information with memory card data recovery software and then, format this memory card or memory stick to fix any possible card problem.
Remove Write Protection Error & Recover Camera Memory Card/Stick Data Step by Step
Therefore, in this moment, in order to freely access or use your write-protected camera memory card or memory stick, simply close that write protection function by releasing the write protection switch. And then, plunge this flash memory card to your computer again, free download and run camera card data recovery software like 4Card Recovery to get all possible original camera stuffs. And then, freely format this memory card to remove its not formatted error.
However, now, to use your data recovery software easily, you can follow the below steps to go on:
Step 1:
Start your downloaded memory card/stick data recovery software on your computer partition and follow its guidance to choose a proper data recovery mode.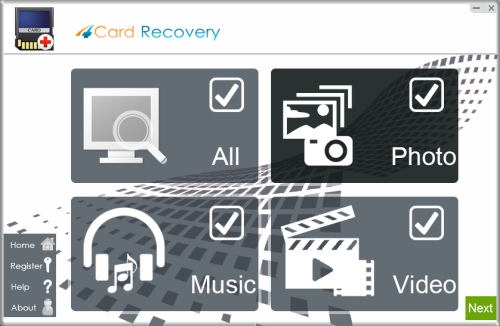 Select recovery options in the main interface
Step 2:
Find the disk that has your memory card/stick attached and start the scanning process. No matter how long it will take to scan this card completely, jus patiently wait.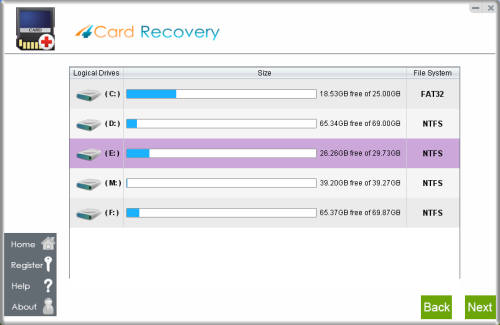 Select card to search photos off card
Step 3:
Browse all scanned memory card stuffs and highlight the recoverable ones out.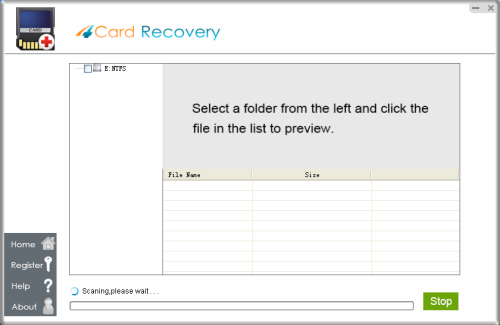 Wait while scanning lost photos, sometimes it takes about 20 minutes to scan a 32G card.
Tips: if it takes more than 2 hours to scan a 32GB card, you may stop the scanning and wait to see
what's already found. Since the card may contains bad blocks that takes longer time than usual.
Step 4:
Restore all preferable images, documents, songs and others to computer partitions.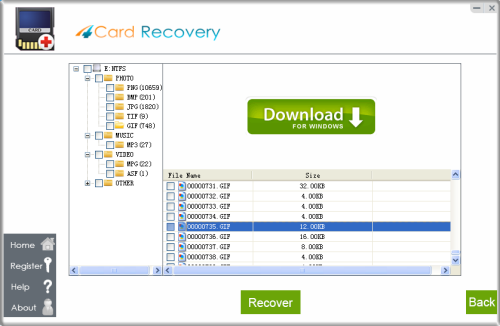 Preview lost photos and save found files. It would generate a folder to contain your lost data.
Please do not save the photo to the card where you lost them. Save them to your PC drive!

Download 4Card Recovery
Other Related Notes:
* Do not use this memory card/stick on other storage medium, like extra cameras, camcorders, players, tablets or the likes.
* Do preview scanned memory card/stick stuffs before data recovery.
* Do move restored camera memory card/stick information on computer partition or other flash drives in case of data recovery failures.
* Do remember to format this memory card/stick to repair its not formatted error problems.
* Do place two or more copies of important camera memory card data on different drives or locations to protect them all well all the time.
Write Protected Memory Card, Memory Stick or USB Stick Shows as Unformatted?
Do you know why you cannot format your write protected memory card, memory stick or USB stick when it is asking you to format? That write-protection function is designed to help people avoid unexpected device data accesses, like not-permitted formatting, deleting, erasing, copying, cutting and more. Without disabling that write protection function, you are not allowed to do any operation to this memory card/stick or USB stick. So, do not dream to format this device smoothly without removing the write protection error. Simply slide the lock button up or down to turn on or turn off that function. But, if there is no such switch or the lock button is broken, simply insert this storage device to your computer and try to remove that function manually by yourself. Just search for "remove write protection" on the internet and find your desired guidance to go on.
How You Can Format Digital Camera Memory Card or Memory Stick?
How long have you used your digital camera memory card or memory stick? Have you ever tried to format your newly purchased memory card/stick before you firstly use it on your digital camera? Or where do you format that memory card/stick, directly on your digital camera or your computer? No matter what your answer is, simply format it in the same way. Of course, to avoid more images, videos, documents, messages, mails and other loss troubles, also remember to make camera data backups elsewhere before format. But, if you cannot format that memory card/stick both on your camera or computer, you also can download some related format software to have a try.
Memory Card/Stick Data Recovery Software
When camera memory card/stick is write protected and also asks you to format, in order to take all possible camera stuffs back, the memory card/stick data recovery software is always necessary. Merely disable that memory card write protection function and then, run data recovery software to scan this memory card or memory stick and also retrieve inaccessible camera pictures, files, videos, messages and others back. Moreover, different data recovery tools may bring you completely different data recovery results. So, do not select your data recovery software randomly. With four file type recovery modes and easy-to-use interface, the above mentioned data recovery software could be your best choice. 

Download 4Card Recovery