Summary
4Card Recovery Can help restore deleted information from SD Card even after you've attached this memory card to different cameras, phones or other devices and got some unwanted memory card data loss problems.

Deleted SD Card Picture Recovery by 4Card Recovery
Free download 4Card Recovery to scan your SD card with data loss problems and rescue all possible pictures, files, videos, songs and more stuffs back safely and easily.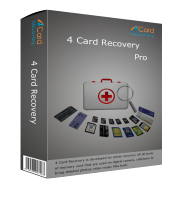 Recover Deleted SD Card Data after Using This Memory Card on Different Cameras
Insistently use a purchased SD card, SDHC card or SDXC card on only one camera and get no problem all the time? However, recently, because of some inevitable reasons, attach the same memory card to different cameras, mobile phones, music/video players or other similar flash memory devices and encounter some unexpected SD card data loss issues? Have you ever deleted SD card photos since you are unfamiliar with this new device and choose "delete" option wrongly? Or have formatted SDHC card without data backups since new electronic devices gives you some memory card not formatted error messages due to RAW Format memory card, incompatible memory card format problem or possible virus-infection issue, etc? OK! No matter how you lose your desired SD card, SDHC card or SDXC card information, if you really wonder to rescue the card data back, you can take chances with SD card data recovery software like 4Card Recovery that can especially offer you "Photo" recovery mode to rescue all possible camera photos back.
Retrieve Photos Deleted from Camera SD Card, SDHC Card or SDXC Card Step by Step
After attaching a SD card, SDHC card or SDXC card, to a different camera, people do get some memory card not formatted errors sometimes. That's also why people always encounter similar formatted memory card data loss problems. However, never fear. Even when you do have deleted files off from this SD card or forcedly formatted this SD card, without data backups, you also can retrieve these camera SD card contents back with SD card photo recovery software like 4Card Recovery.
Immediately try to restore your lost SD card data step by step:
Step 1:
Stop writing anything on this SD card, SDHC card or SDXC card and connect it to your PC with card Reader. Download data recovery software to the same computer and run this software to pick "Photo" recovery mode or others.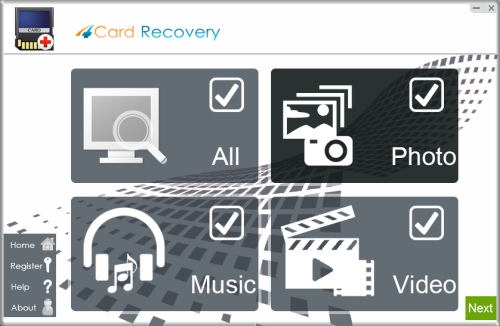 Select recovery options in the main interface
Step 2:
Select this card from the detected local disk list and start to scan it latter.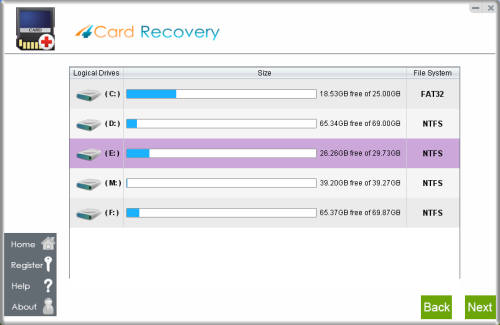 Select card to search photos off card
Step 3:
Preview all found images and select the recoverable ones out.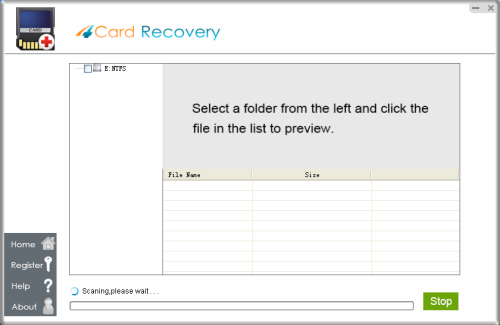 Wait while scanning lost photos, sometimes it takes about 20 minutes to scan a 32G card.
Tips: if it takes more than 2 hours to scan a 32GB card, you may stop the scanning and wait to see
what's already found. Since the card may contains bad blocks that takes longer time than usual.
Step 4:
Select the target folder or device to hold all rescued original memory card photos, texts, messages, files or others.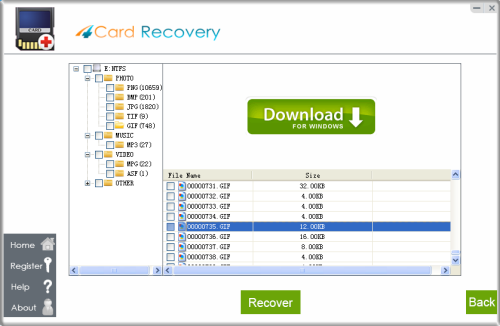 Preview lost photos and save found files. It would generate a folder to contain your lost data.
Please do not save the photo to the card where you lost them. Save them to your PC drive!

Download 4Card Recovery
SD Card Data Recovery Tips:
* Whatever happens, always choose a different storage device to store all restored data in case of data recovery failures.
* Whatever happens, always prepare two or more storage devices to back up important memory card data well in the future. Without extra storage devices, you also can back up your desired data on Cloud storage.
Software to Restore Data from Memory Card or SD Card
Every year, many people all over the world get similar memory card photo loss problems due to mistaken deletion, format, unsafe extraction, virus-infection or other inevitable reasons. However, not all of them are familiar with memory card data recovery knowledge, like data recovery experts or data recovery agencies. In other words, without card data backups left elsewhere, it is even impossible for them to rescue everything lost or deleted back without professional help. But, fortunately, the related memory card data recovery software is created and highly developed so that they can simply operate such programs to take desired stuffs back with ease. If you also do not know much data recovery information, do not feel depressing. Simply follow the guidance of your selected data recovery software to get your SD card data back.
Undelete Camera Memory Card or SD Card after Plunging It to Different Ones
Without knowing much information of camera memory card or SD card data protection, many camera users have ever tried to use the same storage card on different phones, cameras, camcorders or other similar devices so that they could save much money in buying two or more related device memory cards, like standard SD cards, Micro SD cards, Mini SD cards and more. However, honestly, that is not right. The more times you have used the same card on different drives, the more chances you may get some unfamiliar memory card problems or even damage this memory card. So, after experiencing this trouble, learn lessons to use one memory card on only one electronic device.
Permanently Delete Data from Memory Card?
Situation1. Hello! Is it possible to restore deleted pictures from virus-infected SD card? Yesterday, my SanDisk SD card was attacked by viruses and many stored photos were deleted for cleaning the possible viruses. And then, this SD card was also formatted at last. Do you have any idea to restore the lost SD card data? Thanks!  
Situation2: Hey, guys! Yesterday, my boy friend formatted my Sony camera memory card and taken more new photos with this camera. What can I do to rescue the deleted memory card stuffs? Is it possible to restore original data back from overwritten memory card after format? Thank you for any advice!

Download 4Card Recovery