Summary
Detailed guidance will be illustrated here for you to undo the unwanted or unexpected memory card formatting process and rescue lost previous memory card photos, documents, messages, songs, videos and other files.

Formatted Memory Card Recovery by 4Card Recovery
Free download 4Card Recovery to restore lost data back after you've formatted memory card without extra data duplicates for some unexpected causes, like virus-infection, not formatted error, RAW format error or sudden power loss, etc.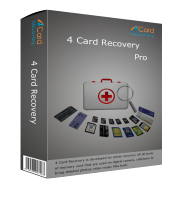 Want to Unformat Memory Card/Memory Stick & Rescue Desired Images, Videos & Others?
Computer reports your memory stick or memory card is not formatted due to an unsupportable RAW file system, virus-infection, improper card extracting or other logical damages, etc? So, without moving anything inside to another storage device, like portable hard disk or pen drive, simply format this memory stick or memory card and realize you really want to unformat this memory card or memory stick to rescue original contents back, including some precious images, interesting videos, useful documents and more? All right! Make sure this original flash memory card will not be used to store anything new on any mobile phone, camera, video camcorder or other players temporarily. It is often essential for you to cause no farther data loss. And then, take a card reader to hold this storage card and use memory card format recvoery software to scan this memory card for restoring original images, files and the likes back.
Memory Card/Memory Stick Data Recovery after Format
How many important files, pictures, songs or other stuffs have been erased off from that formatted memory card or memory stick? Honestly, though the memory card data recovery software will not really undo what has happened to your memory card or memory stick already, it helps rescue the original memory card or memory stick information back as much as possible. So, no matter how many contents you've lost for that unexpected or unwanted format, simply stop adding new stuffs on this card and start data recovery software like 4Card Recovery to take all possible recoverable ones back.
Here are simple steps for you to perform that memory card data recovery processes:
Step 1:
Free download and launch data recovery software on your PC after attaching your card reader there well. And then, start this software and choose a desired file type to continue.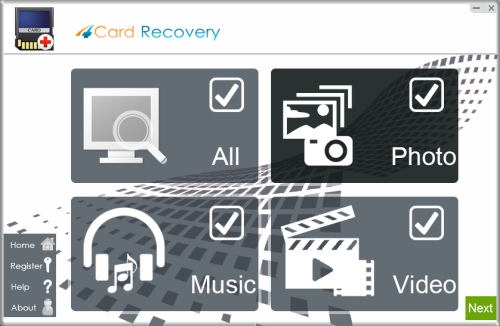 Select recovery options in the main interface
Step 2:
Choose the local disk that stands for your connected memory card or memory stick and scan it with patience.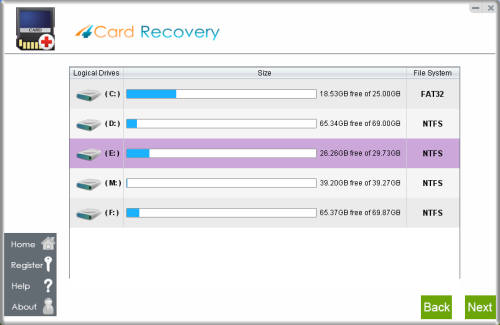 Select card to search photos off card
Step 3:
Click shown files, images, documents and others to preview and highlight the recoverable ones out.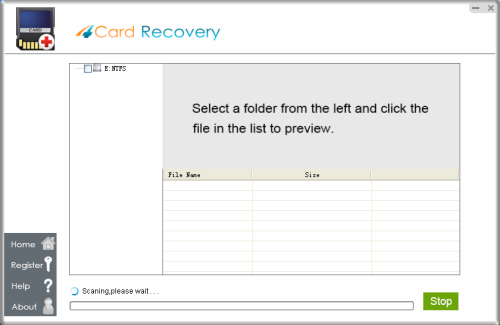 Wait while scanning lost photos, sometimes it takes about 20 minutes to scan a 32G card.
Tips: if it takes more than 2 hours to scan a 32GB card, you may stop the scanning and wait to see
what's already found. Since the card may contains bad blocks that takes longer time than usual.
Step 4:
Restore original files, pictures, videos and the likes back to other storage device, not the original card.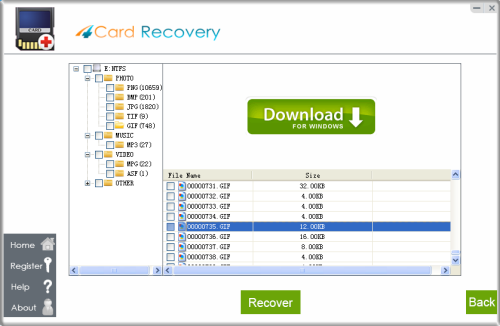 Preview lost photos and save found files. It would generate a folder to contain your lost data.
Please do not save the photo to the card where you lost them. Save them to your PC drive!

Download 4Card Recovery
Additional Tips:
* Writing no new stuffs on this formatted memory card or memory stick to avoid losing more original card information.
* Saving all restored memory card stuffs to any other storage device, not this formatted flash memory card, in case of data recovery failures.
* Preparing more storage devices or locations to make memory card data backups well in the future.
What Does Formatting Process Do to Your Memory Card, Memory Stick or USB Drive?
As we all know, after formatting a storage device, like USB hard drive, USB flash drive, memory card, memory stick and the likes, we often cannot see or find anything previous on the original device, especially when we do a full format process there. That's also why we take it as granted that the formatting process often undoubtedly erases everything inside and make it all irrecoverable forever. However, the truth is completely different. When some devices are formatted anyhow, though the original device information cannot be found, it is really still stored there and only becomes invisible for us. With professional data recovery software, it is always an easy job to make all lost memory card stuffs visible and useful again.
Memory Card Recovery Software
As we've described above, the formatting process will not really destroy or erase everything stored on the memory card. After any formatting process, you often can easily restore the lost photos, films, documents, messages and more contents back from memory card with the help of data recovery software. Therefore, to restore original memory card stuffs back as many as possible, simply move no new stuff on this memory card and run efficient memory card data recovery software like the mentioned 4Card Recovery.
How to Undo Formatting Process on Memory Card or USB Drive?
Situation1: Hey, can you guys tell me whether it is possible to unformat CF card? To be honest, last night, I had transferred many vacation pictures to this CF card and also formatted this card for choosing wrong device. I just planed to format another USB flash drive for erasing some possible viruses. And now, everything inside this CF card was also lost. Thank you for any advice!
Situation2: Hello, this afternoon, I attached my Toshiba USB drive to my Samsung laptop and found there was a not formatted error. I just planed to upload all my photos to my "Entertainment" partition for backing up. However, with that error message, I just even could not access this flash drive. So, I formatted it and also found all my photos were gone. Is there any way for me to undo that formatting process? I need my taken photos back. If you have any suggestion or solution, please let met know! Thanks!

Download 4Card Recovery