Can Not View Files on Digital Camera SD Card When…
1).You do have pressed Delete button on a picture folder of your Canon Digital camera SD Card by accident
2).You do have formatted Nikon camera Micro SD card while this SD memory card is asking to format
3).You do have formatted Panasonic camera SDXC card since it needed to be formatted for RAW file system
4).You do have cleaned Sony camera SD card since it is scanned with viruses, mal-ware or the like threats
5). Samsung camera SD card is not recognized on any computer or machine
6). GoPro camera SD memory card gets corrupted due sudden power loss, computer crashing or removing…
Really want to know whether it is possible to recover camera SD card files after experiencing above camera memory card data loss troubles? OK! If you act carefully and stop saving new photos, videos and files on this digital camera SD card soon, you do get three ways to take deleted or lost information back as you wish.
How to Recover Files from Camera SD Card with Three Simple Methods?
No matter how you stuck in the related digital camera SD memory card photo and video loss troubles, there are still three simple methods to help you recover deleted or lost data back from your original camera memory card. Hence, from now on, stop worrying and go see what you can do now to take original information back as possible as you can:
Method1: Copy Pictures and Videos from Backup Memory Card or Storage Devices
When you do delete photos from SD memory card of your camera or when you need undo format camera memory card to rescue lost files, the most important thing you are supposed to do is to avoid rewriting your camera memory card with data loss issues. Merely take it out from your camera immediately. And then, find all your memory cards, flash drives, external hard drive and storage devices which may hold your lost camera files and go copy all possible original photos and files back as many as possible. In this way, with a data backup saved elsewhere t least, you often can recover your desired camera information back for free.
Method2: Recover Files Deleted or Lost with Camera SD Card Recovery Software
When you do have no camera SD memory card photo backups, also do not rush to feel depressing. Generally, some common SD card data loss troubles, including digital camera deleted photo loss issues, formatted camera SD card file loss issues, corrupted SD card data loss problems and far more, often are able to be fixed with the help of digital camera memory card data recovery programs which helps scan the camera SD card, Micro SD card, CF card, TF card or more storage cards and find the lost data back with its all effort. Hence, no matter whether your camera SD memory card is damaged in reality, go download a lost digital camera recovery tool and give it a good try on your camera SD card.
Method3: Ask for Professional Data Recovery Helps
Sometimes, in some cases, people also are not able to access their camera SD memory card even when they have tried to read the camera memory card with both the original digital camera and different USB card readers on their computers. You are also encountered exactly the same problems? Have you tried it on two or more computers to take chances? Honestly, in such cases, the camera SD card is possible to be physically damaged and often is not able to be fixed with the help of professional experts. And as with the left camera SD memory card files, you probably also need the help of professional data recovery experts or companies. Hence, go search for an online data recovery companies and tell them your data loss problems in details. And then, follow their guide to see what you can do to perform data recovery. Of course, also weight on whether the high data recovery cost is necessary for you.
Common Camera SD Card Data Recovery Steps:
Get no camera photo backups and really need perform camera photo recovery processes? But, have no idea about how to recover deleted or lost files from camera SD memory card? No worry! Here are common steps for you:
Step1. Download and launch free trial version of the selected camera data recovery software.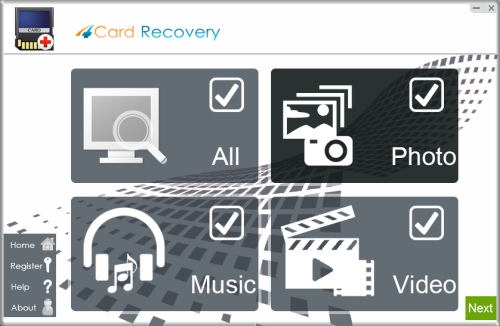 Step2. Open software to pick a data recovery mode and start to scan this camera memory card.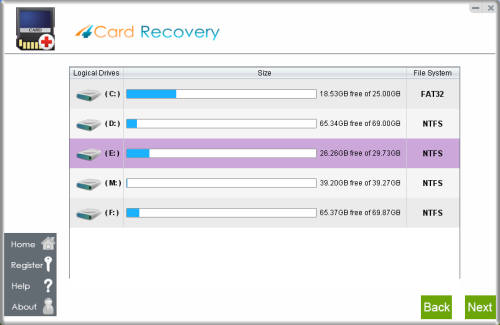 Step3. Preview the scanned photos and files, and select desired ones out.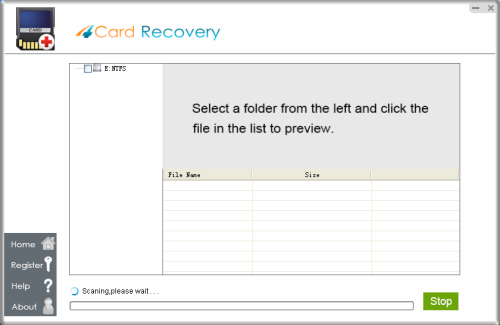 Step4. Restore wanted data to another storage device in case of data recovery failures.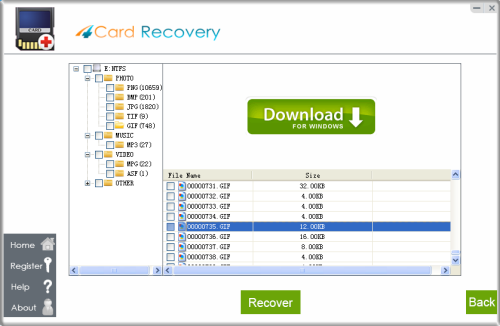 Notes:
*Check the scanned information carefully before any purchase.
*Arrange another storage device to hold all retrieved camera SD card photos, videos and files.
*Double check camera memory card data backups before any delete or format in the future.

Download 4Card Recovery