Micro SD Cannot Be Recognized on Computer and Mobile Phone
"Hi! My 16GB Kinston Micro SD card works well on my Samsung phone over months. However, recently, this mobile phone memory card with many phone contacts, pictures, messages and files, just suddenly stopped working as before and cannot be recognized on my computer and this cell phone. When being used on my computer, it just was not shown in My Computer. Do you know how to remove such Samsung phone memory card not recognized problems? Do you have any idea to recover data from Micro SD card? I just cannot let this phone card corrupted and do nothing to the data left inside. Thanks!"
Hello, friends! Does your Micro SD card still visible in Disk Management of your PC? Or have you tried to use some corrupted Micro SD card recovery tools to rescue your phone contacts, photos and more files when this Micro SD card stops working abnormally? In fact, in your case, your not recognized Samsung phone Micro SD card may not be corrupted completely yet. Merely download data recovery software to scan this phone Micro SD card and see whether you information could be rescued back.
Your Phone Micro SD Card Is Detected by the Download Data Recovery Software?
In your situation, no matter whether your Kinston Micro SD card with not recognized problems is displayed as partition in Disk Management interface, you are often suggested not to overwrite this memory card and download Micro SD card file recovery programs to see whether it is able to be detected well there. Honestly, as long as your phone storage card is really detected by this downloaded data recovery tool, it often means that your card is not seriously or physically damaged yet. And your left photos, videos, contacts and other files inside this card is also really promising to be restored back. But, if it still cannot be read by that software, your card must be corrupted seriously and you do need some professional helps. 
Recover Lost Files with Micro SD Card Data Recovery Programs
This not detected SD card is recognized by your downloaded Micro SD card recovery software? That's great. You do get chances to do photo recovery from Samsung phone Micro SD card and take your precious mobile phone contacts, pictures, files, mails and the like contents back.
And no matter whether you are familiar with such phone memory card data recovery tools, here are simple steps for you to restore Micro SD card data:
Step1. Make sure your downloaded software has been installed and used on a different storage device.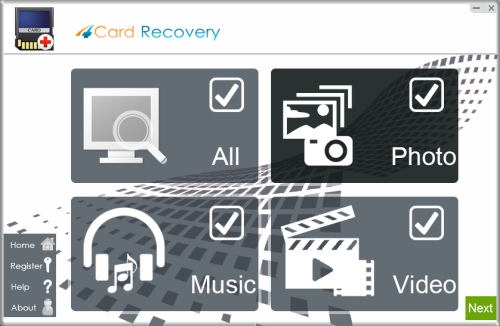 Select recovery options in the main interface
Step2. Pick out a proper data recovery mode and do a thorough scan on your Kinston Micro SD card.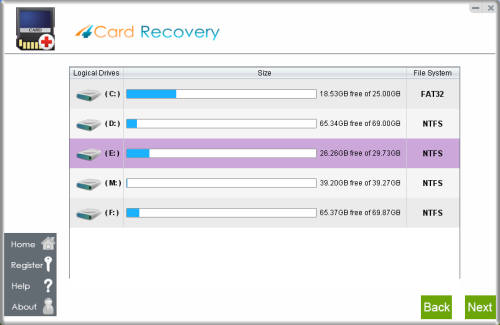 Select card to search photos off card
Step3. Preview the scanned pictures, messages and files to see whether it deserves to be paid.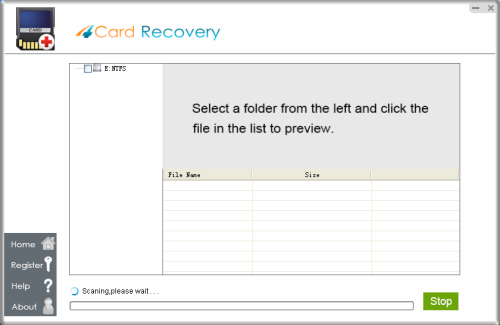 Wait while scanning lost photos, sometimes it takes about 20 minutes to scan a 32G card.
Tips: if it takes more than 2 hours to scan a 32GB card, you may stop the scanning and wait to see
what's already found. Since the card may contains bad blocks that takes longer time than usual.
Step4. Choose another memory card or hard drive to store your desired data.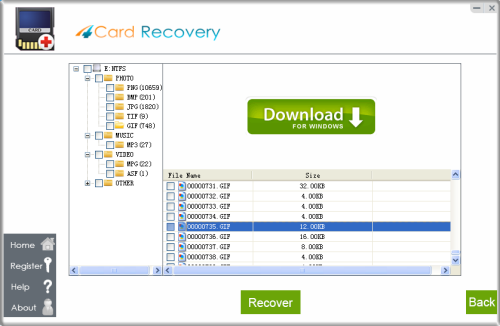 Preview lost photos and save found files. It would generate a folder to contain your lost data.
Please do not save the photo to the card where you lost them. Save them to your PC drive!

Download 4Card Recovery
Notes:
*Put your phone or inner used Micro SD card aside to avoid farther data loss troubles.
*Preview the found phone memory card files carefully before you really pay for it.
*This not recognized Micro SD card is not supposed to be used as the destination device to hold all restored files in case of data recovery failures.
How to Fix Micro SD Card Not Recognized Issues?
Your computer cannot read or recognize your Samsung smart phone Micro SD card due to many reasons, like the unsupported RAW file system, corrupted memory card, damaged card reader and more. Which one of them is more likely for you? Also wonder how to fix your unreadable Micro SD card problems after data recovery? OK! Here are some solutions for you to go on:
1). Try more memory card readers or computers
When your phone SD card is not able to be read well on your PC or other machines, it is able to be caused by damaged memory card readers or computers. Hence, if you do have tried to read this card with this Samsung mobile on your PC, merely extract it out from this phone and go try a memory card reader to take chances. Of course, you also can try different computers as well. If your card is really corrupted itself, it will often give you the same problems no matter how many card readers and computers you have tried.
2). Convert not deleted Micro SD from RAW into NTFS or FAT32
Have you checked whether this phone memory card is visible on Disk Management window? Is it shown there as a partition, but, in RAW file system, an unsupported file system type? All right! Maybe it is damaged due to your improper use. Merely connect it to your PC and try to convert SD card from RAW to NTFS or FAT32.
3). Format virus infected or corrupted Micro SD
Also perform a quick or full format on this phone memory card when you do guess whether it is virus infected or corrupted after data recovery. The formatting process always helps remove many related memory card problems.
4). Ask for professional helps
After trying all possible solutions you have searched over the internet, you also cannot remove this memory card not recognized issues, you may ask professional helps from some professional experts or shops.
Overall, such mobile memory card nor recognized problems do not always indicate that your card is mechanically damaged and could not be used anywhere again. Always rescue your reserved data back and see what you can do to fix them. 

Download 4Card Recovery