Summary
Here is read-only data recovery software named 4Card Recovery for you to rescue photos, files, videos, documents and the likes back from memory card that has a RAW format and cannot be used efficiently without any format.

RAW Memory Card Photo Recovery by 4Card Recovery
Free download 4Card Recovery to rescue inaccessible memory card contents back easily and efficiently. Moreover, its read-only property also causes no rewriting on the same device and can easily help avoid farther data loss troubles.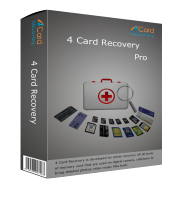 RAW Memory Card, SD Card or USB Memory Stick Photos Cannot Be Accessed?
Windows cannot access memory card, SD Card or USB memory stick since this storage device has been detected with a RAW format error? Windows gives you options to format this memory card, SD card or USB memory stick with many photos for restoring its functional use? Really want to remove this not formatted error and also rescue inner stored photos without annoying troubles? All right! No panic! When such storage medium, like memory card, external HDD and USB flash drive, becomes RAW, do not rush to worry. Firstly confirm whether these left contents are really important enough for you. If they can be easily replaced by else ones, simply format this device to let it work efficiently as before. But, if they are really very, very crucial for your work or other targets, never perform that formatting process so quickly. Just stop adding anything else to this device and download RAW file system recovery software to restore your desired data back at first.
Step-by-step Guide to Recover Data from Unformatted Memory Card, SD Card or USB Memory Stick
When similar storage medium has a RAW file system error, it is only this device that has been displayed as RAW format. Your inner stored photos, messages, mails, documents, videos and other stuffs have not been erased or damaged before any formatting or rewriting process. So, as long as you take the right measures before writing anything else on the same device or formatting it to cause more data loss troubles, you do have possibilities to restore entire device data back with the help of  data recovery software like 4Card Recovery. With this read-only software, you always can freely and safely rescue your previous information back as much as possible.  
So, just act carefully and restore your data back step by step:
Step 1:
Connect this storage device to your PC with your camera, mobile phone, camcorder or other devices. And then, download data recovery software to the same computer. Check well whether this card is detected well there.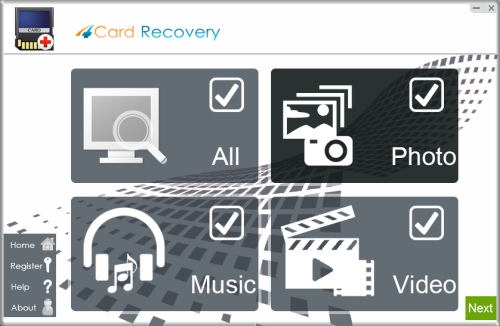 Select recovery options in the main interface
Step 2:
Install and run this software on your computer partitions well. And then, follow its Wizard-like guidance to open the main screen and choose proper file type recovery mode. In your case, the "Photo" mode could be workable for you.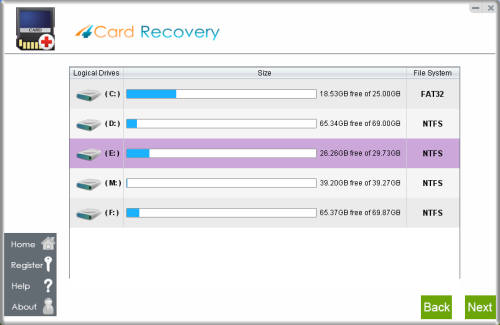 Select card to search photos off card
Step 3:
Scan this device and preview all scanned photos. Remember to mark the desired ones out.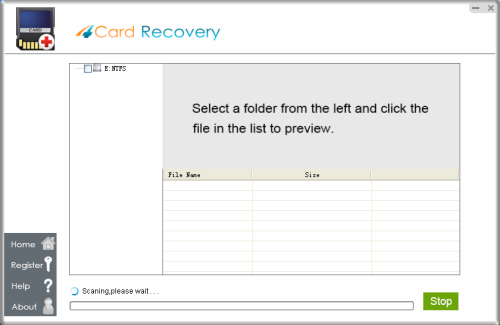 Wait while scanning lost photos, sometimes it takes about 20 minutes to scan a 32G card.
Tips: if it takes more than 2 hours to scan a 32GB card, you may stop the scanning and wait to see
what's already found. Since the card may contains bad blocks that takes longer time than usual.
Step 4:
Restore all wanted photos to computer partitions at last.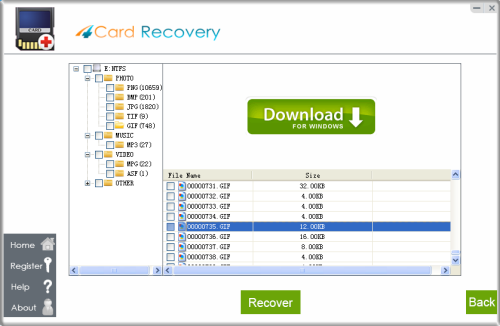 Preview lost photos and save found files. It would generate a folder to contain your lost data.
Please do not save the photo to the card where you lost them. Save them to your PC drive!

Download 4Card Recovery
Notes:
* Do nothing else to this RAW format memory card, SD card or USB memory stick before you are sure to take all possible original stuffs back.
* Do choose your proper data recovery modes when you come to the main screen. Except that "Photo" mode, there are also others, like "Music" "Video" and "All".
* Do move all restored memory card stuffs to a different storage device in case of data recovery failures.
* Do upload your important memory card contents to computer partitions, drives or other places for backing up in the future.
Memory Card or USB Memory stick Shows as Being Not Formatted?
When memory card or USB memory stick gets RAW file system error, except that your attached memory card or USB memory stick will be shown as RAW file system in Disk Management or Properties, you also can find other related symptoms. Firstly, whenever you try to access this RAW device on your computer, your operation will also be stopped by a Windows error message saying: "The disk is not formatted. Do you want to format it now?" When you are trying to test this device with error-checking tool, you will also be told that "CHKDSK is not available for RAW". Overall, the memory card or USB memory stick could become really strangely. So, in the future, to avoid such RAW file system troubles, always use your memory card or USB memory stick safely and rightly.
Memory Card, SD Card or Micro SD Card Recovery Software
As you've been told above, even when this memory card, SD Card or Micro SD Card has been detected with a RAW format, your left memory card, SD card or Micro SD card stuffs are not really lost or corrupted. They are still stored there and only become inaccessible and invisible temporarily. In order to rescue them all back successfully, you need the helps of professional data recovery software like 4Card Recovery. Therefore, if you are sure your reserved memory card contents are desperately needed in the future life, do not do any improper and download this 4Card recovery to take chances. Remember not to overwrite this drive temporarily.
How Can I Recover Photos from SD Card?
Problem1: Hello, this afternoon, when trying to view some newly taken photos, I just accidentally deleted about 10 pictures off from my camera Micro SD card and could not find them all back there. I am really unfamiliar with deleted data recovery information. Do you know how to undo that deleting process? What can I do to rescue these deleted photos back? Any suggestion will be highly appreciated!
Problem2: Hello, my Samsung SD card that has held many camcorder videos and pictures seems to be failed somehow. Every time when I try to access it on my computer with a card Reader, a message would suggest me to format. But, I have not uploaded my newly made videos out yet. Do you know how to rescue my photos and videos back at first? Thank you very much!

Download 4Card Recovery