Summary
Data recovery software enables you to restore deleted photos, videos, audios, files, messages and the likes back from SD cards, CF cards, TF cards, MMC cards, memory stick or other memory cards of your electronic devices.

Deleted Memory Card Data Recovery by 4Card Recovery
Free download 4Card Recovery to recover missing data from the memory cards of different devices after accidental deletion, including video camcorders, cameras, cellular phones, players, digital voice recorders and more.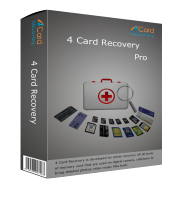 Is There a Way to Retrieve Deleted Photos from SD Card or Memory Card?
Accidentally delete entire SD card data within several clicks when you are using a really new camera/camcorder? Inadvertently delete Micro SD card videos on your voice recorders or players since you think they all have been uploaded to computer backup drives? Mistakenly delete CF card photos when you are trying to move some mobile phone data to computer partitions? Or carelessly delete memory card documents when trying to delete something off from other USB drives? Want to undelete this memory card and also rescue desired device information? OK! Don't worry! You are really lucky that your deleted photos, videos, files or other data may not be completely erased yet. Immediately stop using this memory card and try to get all deleted data back with data recovery software.
How to Recover Deleted Data from SD Card or Memory Card?
Generally, the completely erased or damaged data often is not able to be restored permanently. But, that doesn't mean your SD card or memory card data is already gone forever. Oppositely, after that simple deletion, your left memory card data is not really wiped and could be restored back with data recovery software like 4Card Recovery as long as these original stuffs are not all rewritten by anything else on the same SD card or memory card. So, from now on, take no new stuff on this SD card or memory card with data loss troubles and free download data recovery software to recover your photos back as below:
Step 1:
Open this data recovery software to click a proper data recovery mode. In your case, the "Photo" recovery mode could be good.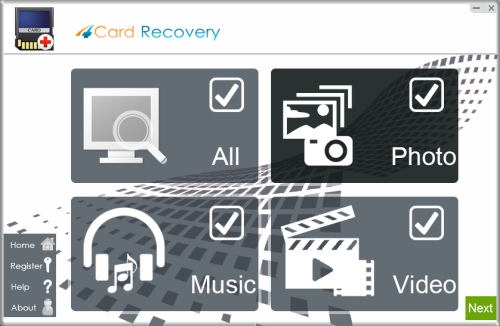 Select recovery options in the main interface
Step 2:
Scan this inserted SD card or memory card with patients.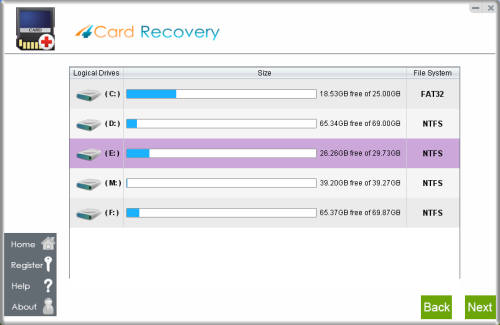 Select card to search photos off card
Step 3:
Remember to preview all scanned data to choose the desired images out latter.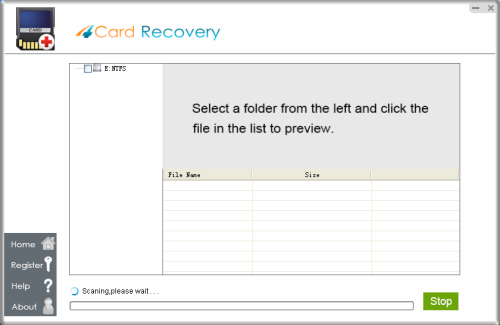 Wait while scanning lost photos, sometimes it takes about 20 minutes to scan a 32G card.
Tips: if it takes more than 2 hours to scan a 32GB card, you may stop the scanning and wait to see
what's already found. Since the card may contains bad blocks that takes longer time than usual.
Step 4:
Set a different storage device as the final device to save all retrieved photos or other stuffs well.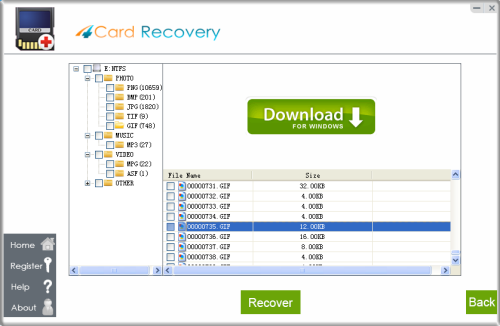 Preview lost photos and save found files. It would generate a folder to contain your lost data.
Please do not save the photo to the card where you lost them. Save them to your PC drive!

Download 4Card Recovery
Please Note:
* The original data often is able to be restored completely when this SD card or memory card is not rewritten or overwritten by anything else. So, do not do anything to this card before data recovery. This is really important part.
* The restored data also is able to be lost when you save it all on the same storage device. So, choose another different flash drive, portable hard drive or partition to hold all restored stuffs.
* The important information also is able to be lost for any reason in the future. Always make card data backups timely to avoid such data loss problems.
Memory Card Photo Recovery Software
Memory card photo recovery software, like the above introduced 4Card Recovery, is a data recovery program that is created and developed for diversified memory card users to process different memory card data loss problems. It always has its own data recovery features and always does its utmost to restore the selected original device information back. However, you also should know, though such data recovery software could help restore lost or deleted stuffs back, not all of them could be used in your case. To choose a proper one for your case, you'd better take more elements into considerations, like the data recovery cost, computer compatible state, memory card states and more.
Can You Undo Delete SD Card, Memory Card, Flash Drive or External Hard drive?
In common use, people do delete some cherished documents, films, songs, videos and other types of files off from memory card, SD card, flash drive, external hard drive and other storage devices. And then, finally realize these stuffs are mistakenly erased and need to restore them all back with any possible solution. OK! Don't be nervous. Even when you are one of these people with deleted data loss troubles, you do have ways to undo delete your storage device. Why? After any device deleting process, the stored information on this memory card, USB drive or USB hard disk is not removed as you guys think. It is still stored where they are and only cannot be seen or found in usual ways. As long as you get a proper data recovery program to scan this device as you are asked, it is not difficult to find it all back and use it as before. So, in your case, just follow the above mentioned steps to make your device data useful again.
Help! Accidentally Delete Data from Different Types of Memory Cards!
Situation1: Hey, this morning, I had accidentally deleted the photo folders of my attached 4GB SanDisk memory card. Honestly, I just meant to delete folders of some downloaded programs. They just had really similar names and I also found the wrong place. And then, I just also mistakenly erased them all there. Is it still possible for me to take these delete photos back anyhow? Thank you guys for any help in advance!
Situation2: Hello, what's your way to restore deleted files from voice recorder memory card? I just recorded several voice files of the school classes so that I did not have to write them all down on my notebook. They were really needed for my homework. But, last night, when trying to record another file, I just accidentally delete them and now I find them all nowhere. What can I do to get these deleted files back?

Download 4Card Recovery