Summary
4Card Recovery is what you need to recover photos, music, messages, mails, files, movies and more from RAW memory card that reports it needs to be formatted before any access.

RAW Memory Card Data Recovery by 4Card Recovery
Free download 4Card Recovery to rescue inaccessible data back from memory card that is asking to format from RAW to FAT32 before you can use.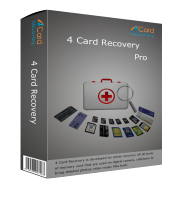 Memory Card or Memory Stick Keeps Asking to Format from RAW to FAT32?
Video camcorders, mobile phones, photo cameras or video players keeps saying your device memory card or memory stick needs formatting before any use? Or Windows 7 , 8 or XP computer/laptops keeps reporting your attached memory stick or memory card is not formatted and the opening CHKDSK is not available for RAW as well? Want to turn that RAW format to the original FAT32? However, many important files, videos, songs, pictures and others are still hold on this storage device and it is really dangerous to do any formatting process there? OK! No worry! Just stop searching whether you can format this card from RAW to FAT32 without losing data. In your case, without overwriting this memory card or memory stick, it is really possible for you to rescue your device information back before any format. Just follow the below instructions and run RAW file system recovery software like 4Card Recovery to have a good try.
Recover Memory Card or Memory Stick Pictures, Files, Movies & Others before Format
Honestly, the reasons behind RAW memory card or memory stick could be really different, like some human errors, system errors or some memory card malfunction errors, etc. However, no matter why your storage device becomes RAW, in order to take your preferable pictures, files, movies, songs and more back, you are supposed not to format this device in this moment and also put no new related information on the same storage device. And then, attach this device to your computer with card Reader and free download data recovery software like 4Card Recovery to recover the original information as much as possible.
Here are simple instructions to restore lost data back with data recovery software:
Step 1:
Install the downloaded data recovery software on your computer with this storage device connected. And then, run this software and click one of the listed four data recovery modes to go on the data recovery process.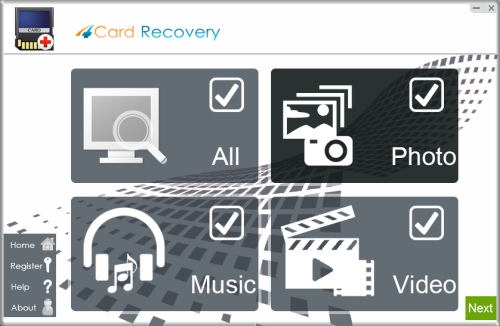 Select recovery options in the main interface
Step 2:
Pick this memory card or memory stick out from all listed storage medium and go start the scanning process.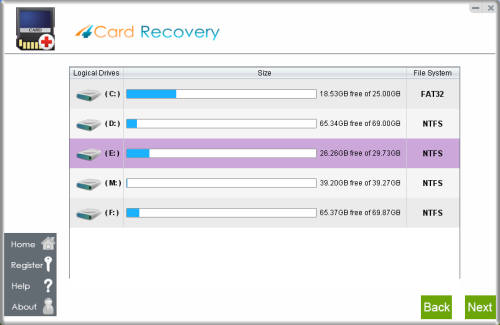 Select card to search photos off card
Step 3:
After that scanning process, go preview all displayed files and choose the wanted ones out.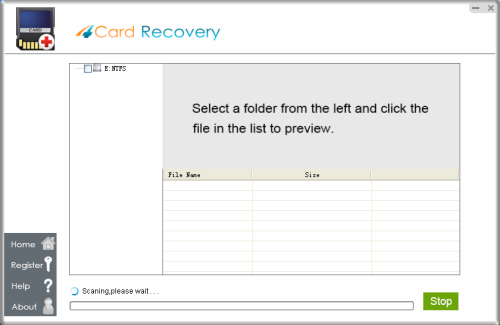 Wait while scanning lost photos, sometimes it takes about 20 minutes to scan a 32G card.
Tips: if it takes more than 2 hours to scan a 32GB card, you may stop the scanning and wait to see
what's already found. Since the card may contains bad blocks that takes longer time than usual.
Step 4:
Go recover original photos, documents, mails, messages and others to a different storage device.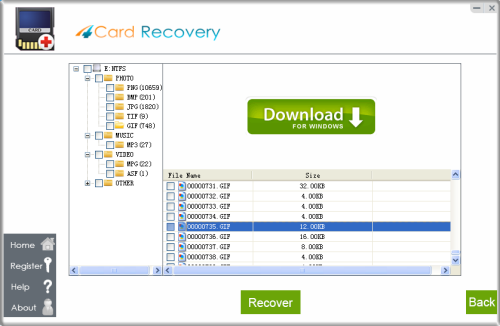 Preview lost photos and save found files. It would generate a folder to contain your lost data.
Please do not save the photo to the card where you lost them. Save them to your PC drive!

Download 4Card Recovery
More Tips:
* No matter how urgent the situation is, write no new image, audio, contact, mail, files and more on the same RAW memory card or memory stick in case of permanent data loss.
* No matter how good the data recovery result is, prepare a different storage device to store all restored information in case of unpredictable data recovery failures.
* No matter how badly the conditions of this memory card or memory stick are, do format it from RAW to FAT32. 
Memory Card, USB Memory Stick or USB HDD Gets Not Formatted Error?
As you've experienced, people do receive a not formatted error when the file system of their memory card, USB memory stick or USB HDD is detected as RAW. However, the RAW file system error is not the only reasons that can cause such unformatted errors. Instead, there are many known or unknown causes that can bring the memory card, USB memory stick or USB HDD users not formatted errors. For example, when your memory card is virus-infected, in order to avoid worse damages caused by such dangerous viruses, the computer often will suggest you to format this memory card at first. When your USB memory stick is suddenly extracted or dropped somehow, in order to remove some logical damages, the computer will also give you error messages and ask you to format that device. Of course, when your USB HDD has got some bad sectors, in order to avoid worse permanent data loss problems, the computer also asks you to format this drive at first. So, in some degree, this not formatted error problem is not always bad for you. Always prepare data backups to avoid data loss problems.
Turn Memory Card, SD Card, TF Card or CF Card RAW Format to FAT32
Generally, under Window operating system environment, the memory card (like SD card, TF card, CF card or MMC card) often can be readable when its file system is detected as common FAT32 only. That's why your memory card with RAW file system cannot be normally read and asks you to format. So, when your memory card, SD card, TF card or CF card is recognized as RAW format, without worrying the inner data, you are supposed to turn its RAW format back to FAT32 so that you can freely use it on your computer or other device as before. Hence, connect this memory card to your computer and format it rightly from RAW to FAT32.
Free Memory Card Data Recovery Software to Cope with Different Data Loss Troubles
People use memory cards to store colorful information, like activity photos, exciting videos, business documents, mails, contact messages, etc, and also bring some data loss troubles. When something useful is really deleted, removed, erased or inaccessible for human errors, system errors or card errors, in order to re-access the original memory card contents as before, the specially designed data recovery software, like 4Card Recovery, is really useful. With its highly-developed data recovery modes and easy-to-use interface, you always can easily cope with different data loss troubles and recover preferable stuffs back with high rate.

Download 4Card Recovery