Summary
Android phone memory card data recovery software, 4Card recovery, can help you restore different types of files, like pictures, texts, mails, videos, music and more, back from Nokia android phone memory card with not formatted error.

Memory Card Deleted Data Recovery by 4Card Recovery
Free download 4Card Recovery to restore your original memory card information, no matter whether you've formatted this Nokia phone memory card as you are asked.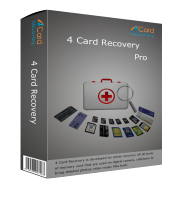 Nokia Android Mobile Shows "Memory Card Not Formatted"?
Nokia android mobile phone reports memory card errors and needs formatting? Have you formatted this phone memory card, like SD card, Micro SD card or Mini SD card yet? Have you prepared any memory card data backup elsewhere in advance? What has happened then? Does that formatting process finally stop within seconds and show this operation is failed? Or does that formatting process merely erase all memory card information as usual? Now, look for simple solutions to restore phone memory card data back? OK! No matter whether you've formatted this Android phone memory card or what has happened after that formatting process, you do have chances to re-view your desired memory card photos, files, videos and the likes. Just stop doing anything else to this phone memory card and run not formatted error recovery software to take all possible stuffs back.
Learn to Restore Data from Unformatted Phone SD Card or Other Memory Card
No matter whether you've formatted this Nokia android phone memory card, like SD Card, MMC card, CF card, memory stick or more, yet, your preferable phone photos, files, messages, mails and more are not really deleted or lost completely. Moreover, as long as they are overwritten by new stuffs on the same phone memory card, you do have a really high rate to successfully restore them all back from this unformatted memory card. Therefore, take this memory card out from this Nokia phone to avoid any rewriting process there and free download unformatted memory card data recovery software like 4Card Recovery to restore all possible phone stuffs back as possible as you can.
Follow this tutorial to restore your deleted memory card files:
Step 1:
Download software and also insert this memory card to your computer with USB card Reader. Launch software and open its main interface to pick a practical data recovery mode.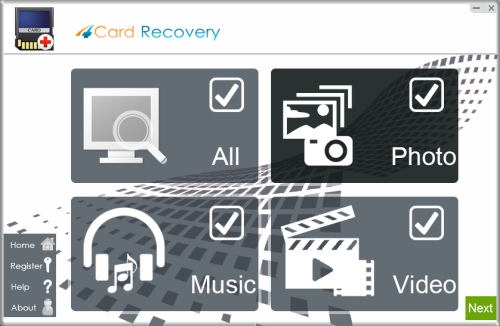 Select recovery options in the main interface
Step 2:
Scan this unformatted memory card and check the found phone information carefully. Choose the useful ones out.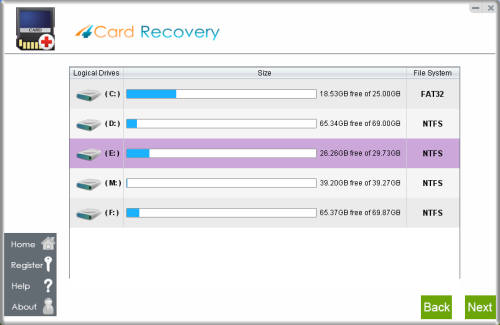 Select card to search photos off card
Step 3:
Preview card photos, files or messages when all possible original information is displayed there.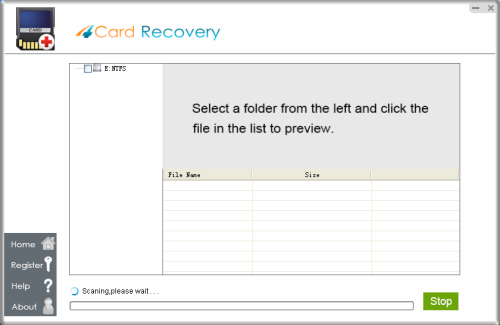 Wait while scanning lost photos, sometimes it takes about 20 minutes to scan a 32G card.
Tips: if it takes more than 2 hours to scan a 32GB card, you may stop the scanning and wait to see
what's already found. Since the card may contains bad blocks that takes longer time than usual.
Step 4:
Restore all preferable phone memory card contents to local partitions, external drives, flash drives or other devices.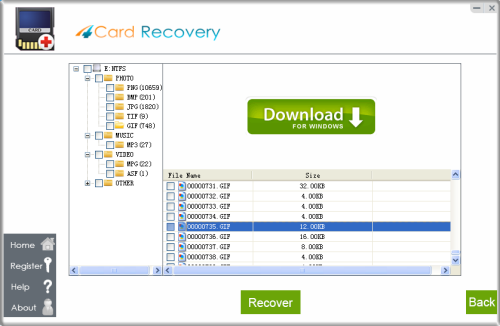 Preview lost photos and save found files. It would generate a folder to contain your lost data.
Please do not save the photo to the card where you lost them. Save them to your PC drive!

Download 4Card Recovery
Please Note:
* New files can replace or corrupt your original phone memory card stuffs and make them gone permanently. So, do not add new data on this memory card temporarily.
* The scanned memory card information also could be irrecoverable. Just preview them and carefully mark the recoverable ones out.
* The data recovery processes also could be failed at last when you do save all restored stuffs on the same Nokia phone memory card. So, in order to reduce the risks, prepare another different drive or location to save them all well.
* The data loss troubles could find you again, when you save no data backup well. So, from now on, learn to prepare phone data backups well all the time.
Smart Phone SD Card, Micro SD Card or Other Memory Card Is Not Formatted?
Do you know why your Nokia phone says your inserted SD card, Micro SD card or other memory card is not formatted? Are you used this memory card on this Nokia phone for the first time? Or do you have scanned any dangerous virus or thread there? Generally, the memory card in mobile phone could get not formatted error for many reasons, like memory card damages, virus-infection and incompatible memory card file system, etc. No matter which one is yours, plunge it to your computer with a different card Reader and check how it shows on your computer. If it is virus-infected, your install antivirus programs often can easily find and warns you before you try to access it there. Of course, if it is detected with a unrecognizable file system, you also can prove it in Disk Management or Properties.
How to Undelete Photos from Android Mobile Memory Card?
No matter whether you are using Android phone or Windows phones, after you've deleted some photos or other files off from the phone memory card, you do have two ways to restore them back. The one way is to copy them all back directly from your memory card data backups. Of course, this only happens when you do have uploaded these deleted stuffs to another drives, memory cards or online storage. And then, the other way is to take them back at the aid of data recovery software like 4Card Recovery. No matter which data recovery software you plan to apply, always deeply scan this memory card to rescue your stuffs back as many as possible.
Retrieve Deleted Files from SD Card
Situation1: Nokia mobile phone suddenly gave a message saying there was a problem with the inner memory card and asked to format it. But, I didn't want to format this 4GB Micro SD card since I did leave many photos, videos, songs and more there. What can I do to re-access my memory card information?
Situation2: Hey, friends! Hope you guys know how to restore deleted files from formatted SD card. My tablet SD card just formatted yesterday for some coincidences and many of my downloaded videos, cartoon images and documents were erased completely. But, I only copied back several ones of them back from my other copy. Is it still possible to restore them back directly from this formatted SD card? Any idea would be appreciated here! Thanks!

Download 4Card Recovery