Canon CR2 Files Are Deleted by GoPro Studio Importer. How to Recover CF Card Photos?
"Hello! I would like to know if someone there has ever tried to recover Canon RAW (CR2) files from a compact flash card. In fact, I do have used a 16GB SanDisk CF card on my Canon 7D digital camera and placed many CR2 pictures inside this CF memory card. However, yesterday, after I inserted this media to my computer with a card Reader, GoPro Studio deleted these files in the DCIM Folder of this camera memory card. Do you have any solution for me to perform data recovery from digital camera memory card? Can I just attempt to apply digital camera CF card data recovery software searched over the internet? Does it work in recovering my CR2 images back completely? Thank you very much!"
Hello, friends! Are you sure that all your desired RAW format files, CR2 photos, are deleted by that GoPro Studio Importer, not your accidental delete or shift delete operations or virus deleting, etc? OK! No matter how your Canon 7D compact flash card photos are deleted, the good news is that you can download camera memory card data recovery tools to scan this 16GB CF card and recover deleted files back as many as you wish.
Go Recover Deleted Files from Compact Flash Card with Ease
In daily use, digital camera memory card photos and files could be strangely deleted due to many reasons, like unintentionally delete or shift delete, virus attacking, software deleting and more. And no matter which one of them is exactly the cause behind your deleted Canon 7D CF card CR2 image loss troubles, you are often suggested not to shot new photos with this camera and also save no new file on this camera memory card. And then, go try to recover deleted photos with ScanDisk compact flash card recovery utilities.
And in your case, no matter what you have done to take your RAW format camera photos back, merely go follow below steps to recover deleted files from camera memory card:

Download 4Card Recovery
Step1. Connect your Canon camera or CF card reader to your computer and also launch camera card data recovery software well on the same computer after downloading.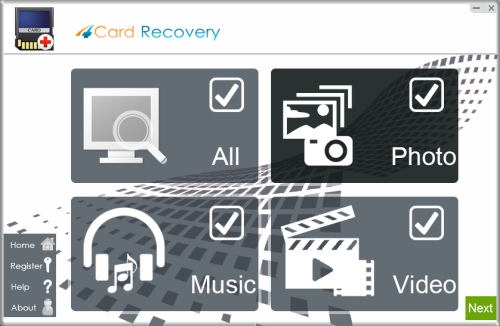 Select recovery options in the main interface
Step2. Double click this software and select a desired data recovery mode or file type recovery mode from main screen.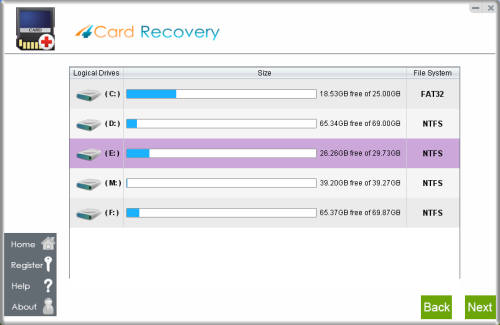 Select card to search photos off card
Step3. Click your detected camera compact flash card and perform a deep scan there.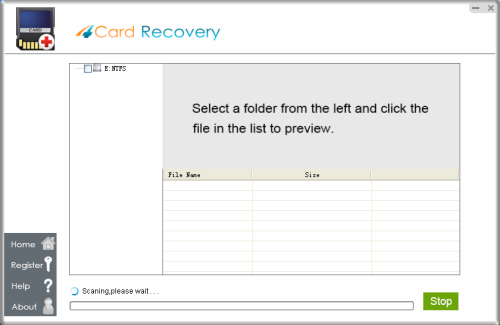 Wait while scanning lost photos, sometimes it takes about 20 minutes to scan a 32G card.
Tips: if it takes more than 2 hours to scan a 32GB card, you may stop the scanning and wait to see
what's already found. Since the card may contains bad blocks that takes longer time than usual.
Step4. Preview and recover deleted CR2 photos and files to another storage device.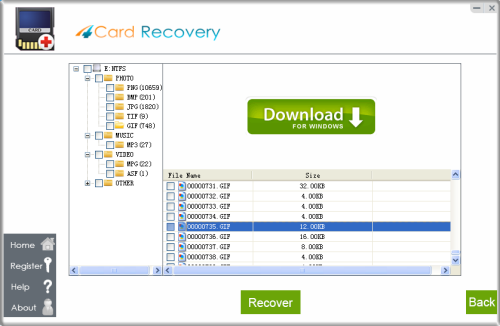 Preview lost photos and save found files. It would generate a folder to contain your lost data.
Please do not save the photo to the card where you lost them. Save them to your PC drive!

Download 4Card Recovery
Please Attention:
*Arrange another storage device or location, not this CF card with deleted photo recovery problem, to install your software and also save all retrieved information to avoid data recovery failures.
*Preview the scanned photos to see whether your deleted ones are able to be taken back well.
Back Up Canon Camera Memory Card Data Well
After getting your Canon 7D card photos back, you are also suggested to back them all up well immediately to other safe devices or locations. Honestly, as a camera or computer user, you may already know how important a device data backup prepared in advance it would be when you have lost something crucial due to delete, format, reformat, virus infection, computer corruption or memory card corruption, etc. Hence, always save canon camera photos and videos on several memory cards well and also update when you do have some new ones.
Please Note: When you do have lost precious camera photos and videos due to accidental format, CF card format recovery programs could be great chances for you to rescue your information back.
Set Your GoPro Studio Importer Well to Avoid Accidental Photo Delete
No matter why you have to edit your camera photos with GoPro Studio Importer, which always helps people edit and improve the chosen photos perfectly, hope you can learn to check this photo editing software well before you really start to import your images to avoid such unwanted deleted data loss troubles. What you are supposed to do is only open its setting interface, check every elements and close the options that would bring you DCIM folder file loss problems. Moreover, in case of the related CF card image loss troubles, hope you also can save the original photos and edited ones on different locations as well so that the edited ones will not rewrite your original one.

Download 4Card Recovery