Summary
Read this article to learn how you can get deleted photos, movies, files, audios and other stuffs back from SD card that has a not formatted error and also has been formatted for your mistaken operations.

Deleted SD Card Photo Recovery by 4Card Recovery
Free download 4Card Recovery to rescue all possible deleted information back from SD card of your digital cameras, mobile phones, digital camcorders, players and other devices after accidental format.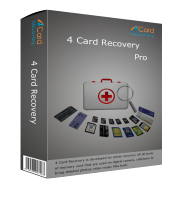 Fix SD Card or Memory Stick Not Formatted Error & Recover Photos Inside?
Is your SD card or memory stick weirdly throwing up an error message saying: "The disk is not formatted. Do you want to format it now…" or "You need to format the disk before you can use …"? Though it is not your plan to format this SD card or memory stick without data backups, you finally wrongly delete memory card files by accidental format? Now, really regret and want to see whether these lost SD card or memory stick images, videos, texts, files and other contents are still recoverable? OK! No panic! Such memory card data loss problems nearly happen to all of memory card users. Whether you've recovered your memory card data back yet, this article will show you detailed knowledge to get accidentally deleted photos back.
Help Restore Data from SD Card or Memory Stick Formatted by Mistake
When receiving that SD card or memory stick "need to format" error, you just feel so worried that you blindly try to use different data recovery solutions on the internet and also mistakenly format this memory card to wipe everything inside? All right! SD card or memory stick photos, files, messages, mails, videos and other stuffs are possible to be deleted or erased for mistaken operations in common use. Even without memory card data backups found elsewhere, you also should not lose yourself in sorrow all the time. Simply cheer yourself up and run deleted file recovery software like 4Card Recovery to get your referable memory card data back.  
Here are the data recovery instructions for you to take original SD card or memory stick photos back:
Step 1:
Open computer to download this data recovery software and install it well there latter. Insert this SD card or memory stick to this computer and also run this software well there. Simply choose desired data recovery mode to scan this card.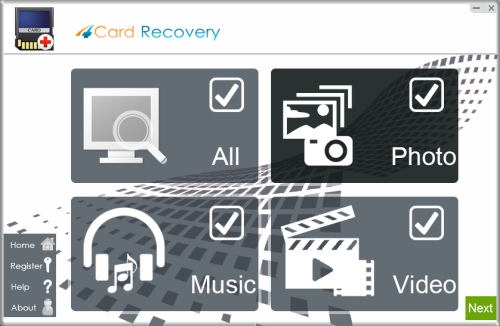 Select recovery options in the main interface
Step 2:
Highlight your plunged memory card and click "Next" to start the automatic scanning process.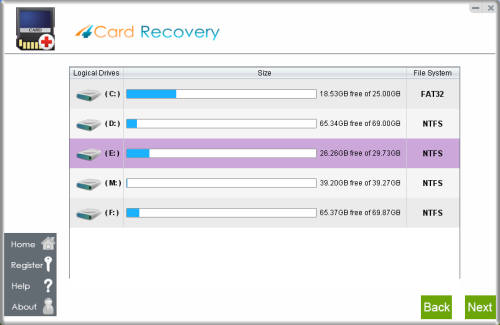 Select card to search photos off card
Step 3:
Preview card photos, files or messages when all possible original information is displayed there.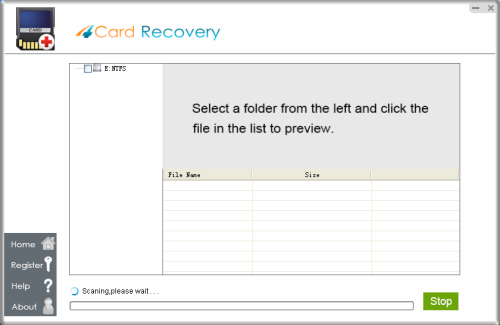 Wait while scanning lost photos, sometimes it takes about 20 minutes to scan a 32G card.
Tips: if it takes more than 2 hours to scan a 32GB card, you may stop the scanning and wait to see
what's already found. Since the card may contains bad blocks that takes longer time than usual.
Step 4:
Attempt to find another external storage device, like portable drives, USB pen stick or memory card or flash drive to save all restored card data well.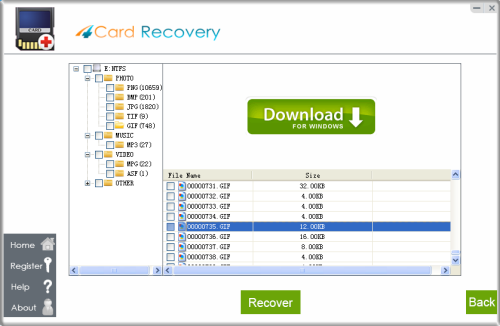 Preview lost photos and save found files. It would generate a folder to contain your lost data.
Please do not save the photo to the card where you lost them. Save them to your PC drive!

Download 4Card Recovery
Extra Warnings:
* You can freely choose any other partition or external drives to download and install this 4Card Recovery software. But, do not plan to put all related stuffs on this formatted SD Card or memory stick.
*You are supposed to patently preview the scanned original card files, photos, messages, mails and the likes, not videos and audios.  
* You'd better store the restored photos, files and others on a different partitions, drives or memory cards after data recovery process. But, do not attempt to save them all on the same storage card in case of data recovery failures.
* You are supposed to purchase or prepare more storage devices, including external drives, flash drives, memory cards and more, to save your future data backup copies in case of similar data loss troubles.
How to Restore Deleted Images from Many Types of Memory Cards?
It is absolutely true that deleted images, documents, messages, videos, audios and the likes are possible to be restored from SD card or memory stick after this storage are is formatted or deleted by chance. What you need is only deleted photo recovery software. Moreover, similar to SD card, the other types of memory cards, including he commonly-used Micro SD cards, MMC cards, CF cards, TF cards, Memory stick and more, are also able to be scanned by such memory card recovery software. In other words, when you unfortunately delete or lose something useful off from various types of memory cards, data recovery software is indeed a food method to take everything original back.
The Disk Is Not Formatted. Do You Want to Format It Now?
SD card or other memory cards strangely says: "The disk is not formatted. Do you want to format it now"? What do you know about such SD card or memory card not formatted error? Is it proper to format this SD card or memory card immediately? Honestly, similar SD card or memory card not formatted error often pops out when the original memory card is virus-infected, logical damaged or displayed as RAW format, etc. No matter what causes such errors, simply format this SD card or memory card and check whether it is still recoverable. But, in your case, since you do have many photos and other stuffs stored inside that SD card or memory stick, it is not so proper for you to immediately format this card to restore its functional use. Merely rescue your data back from this card with data recovery software and try the formatting process at last.
Accidentally Delete Photos from SD Card or Other Memory Cards?
Situation1: Hey, I have purchased a new Sony digital camera and often use it with a 16GB SD card attached. Till now, this SD card has held nearly 2GB of precious photos. However, nearly 1GB of these pictures is mistakenly deleted when I am trying to upload them to my laptop partition. Is it true that deleted memory card stuffs are still recoverable? What can I do to restore deleted SD card photos back? Thanks for the help!
Situation2: Hello, I accidentally deleted Micro SD card five folders of graduation pictures since I thought they all had been uploaded to my backup drive already. But, they had not been backed up well yet for some emergencies. I have searched a lot and find data recovery software is created for users to restore different memory card data. But, I don't know whether it is right. Do you have any idea about such deleted photo recovery software? Do you have any recommendation? Thanks for reading.

Download 4Card Recovery