SD Card Came Up with SD Card Error and Was Formatted via Windows
"Hello! I am looking for SD card format recovery solution to recover my lost GoPro files. Honestly, my 64GB SanDisk Extreme SD card used on my GoPro digital camera yesterday came up with a SD card error while I was trying to preview files with a GoPro App there. And after I did have performed a series of troublesome checking and searching processes about the related problems, this camera SD card was formatted via my Windows computer and all my left card photos and files were lost finally. Do you know anything about the camera SD card error? Do you have any suggestion to unformat SD card? Thank you in advance!"
Hello, friends! No matter why your GoPro camera SD card gives you SD card error while you are trying to preview some files inside this camera memory card with GoPro programs, your SD card with precious photos, videos and files already has been formatted. And that SD card error problem may be already removed. And as with your lost camera information after that format, do not overwrite this SanDisk SD card and go recover photos from formatted SD card with formatted SD card data recovery tools online.
Camera SD Card Format Recovery Tutorial
After you have done a quick format or full format on your 64GB camera SD card, your original camera data may not be wiped completely and immediately yet. And that's also why many SD card format recovery utilities are created to help people recover lost data from camera SD card after format. So, stop using your camera memory card to hold more information in case of permanent data loss troubles and go select a proper data recovery program based on your situation.
And here is the simple camera SD card format recovery tutorial for you:

Download 4Card Recovery
Step1. Insert Camera SD card to your PC. Download and install card file recovery software on computer partitions.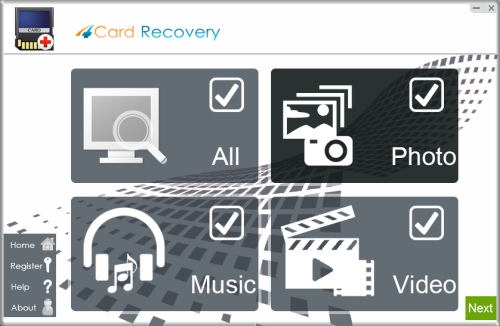 Select recovery options in the main interface
Step2. Select a recovery mode according to your data loss troubles and highlight your GoPro SD card out.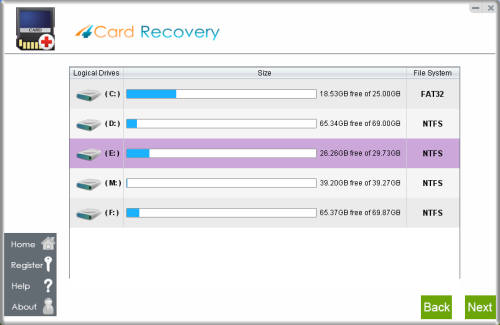 Select card to search photos off card
Step3. Scan this SanDisk Extreme SD card patiently and preview found photos and files.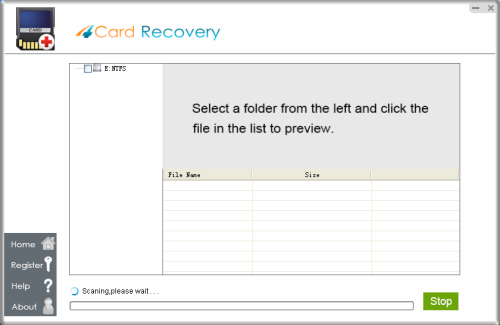 Wait while scanning lost photos, sometimes it takes about 20 minutes to scan a 32G card.
Tips: if it takes more than 2 hours to scan a 32GB card, you may stop the scanning and wait to see
what's already found. Since the card may contains bad blocks that takes longer time than usual.
Step4. Pick a completely different partition, flash drive or external hard disk to save all retrieved information.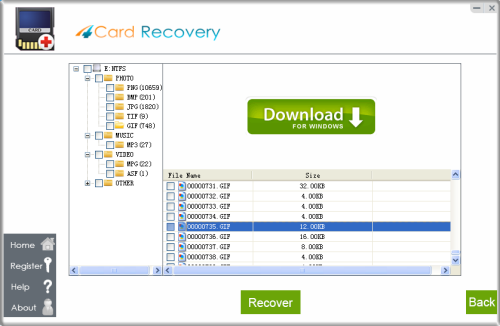 Preview lost photos and save found files. It would generate a folder to contain your lost data.
Please do not save the photo to the card where you lost them. Save them to your PC drive!

Download 4Card Recovery
Extra Tips:
*This 64GB SD card is not supposed to be continuously used as the new GoPro camera data storing location in case of worse data loss troubles.
*Preview the scanned card photos and files to see whether it works for your formatted card data loss troubles.
*Save everything retrieved to another storage device in case of data recovery failures.
*This camera memory card should never be the only one storage device to hold all your important camera information in the future.
How to Preview SD Card Files Safely with GoPro Apps?
You are still thinking why your camera SD card gets such SD card error while you are running GoPro apps to preview some photos and files inside? Really need some suggestions to view your SD card files safely with these GoPro programs? All right! No worry! Here are some practical tips for you to follow:
1). Copy All Important Card Files to Backup Storage Devices
In case that all your important camera SD card photos, videos and files are deleted or lost due to the related GoPro software problems, SD card error problems, SD card not formatted error problems, corrupted SD card problems, reformatted or formatted SD card problems and more, you'd better always copy all these contents to several backup storage devices well in advance. If possible, when you do have taken some new photos or videos or done some changes to these files, also remember to update these backup copies stored elsewhere timely.
2). Check GoPro apps well to avoid deleted file loss troubles caused by these programs
Generally, in some cases, the camera memory card files are also able to be deleted or lost due to your used programs. For example, when you do have downloaded and used an infected program on your device, the card data is really possible to get lost or deleted potentially. And, in some cases, when you do have not set your replied software well, it sometimes will also automatically delete, remove or hide your data. There is no sure. Hence, always check your newly installed GoPro applications carefully to avoid such camera memory card data loss troubles from now on.
3). Double check selected files carefully before delete, shift delete, format or reformat
Of course, in daily use, people are also able to lose or delete their crucial camera files since they do have select the wrong files, folder or memory card before any delete, shift delete, format or reformat. Hence, always double check how many files and folders you have highlighted in advance.
4). Arrange a different storage card to save changed or edited SD card data
Before you are running a GoPro tools to edit, improve or divide your camera photos, videos and files, also select a different storage card or device to hold the newly created information in case of data loss.
5). Upload the needed data to computer when you do want to preview it on your PC
When you do have to preview some files stored inside your digital camera SD card on your PC with GoPro applications, also remember to upload a copy of your needed ones and then remove this SD card out from your computer correctly. In this way, you can avoid many SD card data loss issues caused by sudden memory card dropping, hitting, virus infection or more the like problems.
Overall, always make data backups well and also use GoPro apps safely.

Download 4Card Recovery