Summary
Phone memory card data recovery software is introduced here for you to retrieve deleted photos back from Samsung phone memory card when this memory card has an unrecognized format error and has been formatted without extra data copy left.

Unrecognizable RAW Memory Card Recovery by 4Card Recovery
Free download 4Card Recovery to rescue your taken photos, recorded videos, made files, downloaded songs and more back from Samsung phone memory card when you've formatted this card due to an unrecognized RAW format error.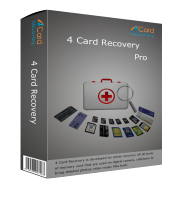 Photos Are Deleted from Unreadable RAW File System Samsung Phone Memory Card or SD Card?
Samsung phone memory card or SD card (including often used SDHC card, SDXC card, Mini SD card or Micro SD card, etc) keeps saying it needs formatting on your PC? Or after you've put this memory card or SD card into Samsung Galaxy S/ Note phone, a message pops out and asks: "Memory card has an unrecognized format. Reformatting will erase all data. Reformat it now?" Even though you do worry about losing many photos, messages and other stuffs inside, you are also afraid of causing more storage device damages and make things worse? So, format this phone SD card or memory card and also delete Samsung phone card photos inside? OK! No worry! When you are trying to remove that not formatted error problem, the formatting process is really necessary. So, do not blame yourself. Just stop using this Samsung phone memory card or SD card and try to recover lost photos back with RAW file system recovery software.
Free Samsung Mobile Memory Card or SD Card Photo Recovery after Format
If you've unfortunately written or moved anything else on the same memory card or SD card, your original Samsung phone photos and other stuffs may be already replaced and cannot be restored again. But, don't be nervous. As long as they all are not completely overwritten, you do have chances to get the recoverable ones back as you wish. Simply download free data recovery software like 4Card Recovery and try to restore your information back step by step:
Step 1:
Download the free version of 4Card Recovery and install it on your PC. And then, when it comes to the main screen, pick your desired "Photo" recovery mode to go on. Of course, the other three modes also could be good choices to go on.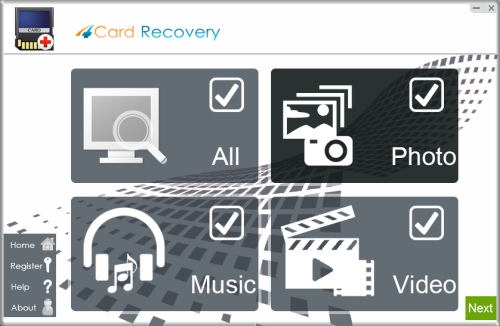 Select recovery options in the main interface
Step 2:
Start performing a scanning process on this attached Samsung phone storage card. If this card has not been overwritten yet, you often can see nearly all previous card photos listed on the software screen.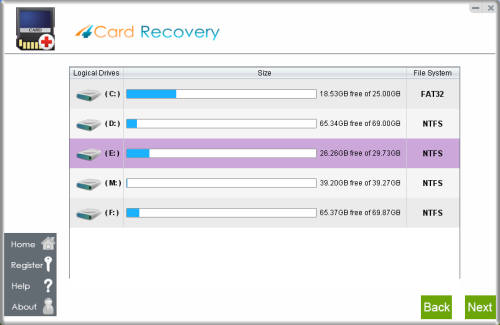 Select card to search photos off card
Step 3:
Preview the listed photos in order and see how many of them need to be restored. Merely select them all out.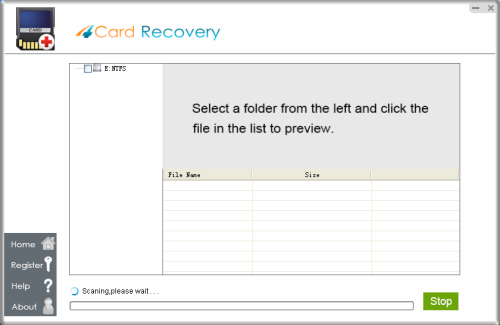 Wait while scanning lost photos, sometimes it takes about 20 minutes to scan a 32G card.
Tips: if it takes more than 2 hours to scan a 32GB card, you may stop the scanning and wait to see
what's already found. Since the card may contains bad blocks that takes longer time than usual.
Step 4:
Carefully choose another storage device to save all restored information in case of data recovery failures.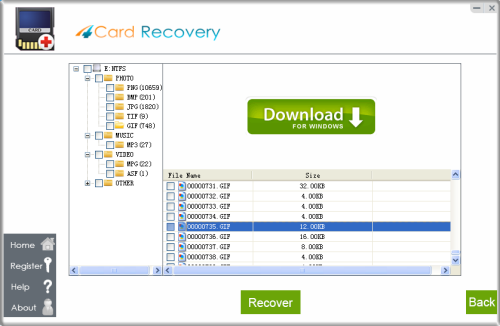 Preview lost photos and save found files. It would generate a folder to contain your lost data.
Please do not save the photo to the card where you lost them. Save them to your PC drive!

Download 4Card Recovery
Notes:
*Before you've taken everything original back, save nothing else on the same memory card in case of data recovery failures, including your restored information.
*Regularly create Samsung mobile phone memory card or SD card information backups on different drives or location in the future.
Phone Memory Card or SD Card Is Blank or Has Unsupported File System RAW?
Samsung mobile phone says the attached memory card or SD card has an unsupported format and asks for formatting? Have tried this card on another computer or laptops with a card reader? The flash memory card gives the same not formatted error and its file system also needs to be changed into FAT32? Its used space and free space are both displayed as 0 bytes? All right! Obviously, your phone storage device gets a common RAW file system error. To covert the RAW format back to previous FAT32, you are supposed to format this memory card or SD card on your PC. However, do not randomly do that formatting process, especially when you do reserve much important data on that RAW card. Just firstly take your left cell phone memory card data back as many as possible and then, do the necessary formatting process freely.
Free Undelete Memory Card or SD Card Files from Handle Phone?
Such deleted memory card/SD card data loss problems not only happens to mobile phones and also occurs to video camcorders, photos cameras, MP3/MP4 payers, tablets and other devices that can uses a memory card or SD card. So, in the future, always use your device storage card rightly and also timely prepare device data backups on different storage media to avoid such annoying troubles. But, if you also unluckily encounter such data loss issues, also do not panic! Insist saving no new information on this memory card or SD card and use the 4Card Recovery to rescue your deleted images, messages, contacts, videos, audios, movies back for free. 
How to Recover Deleted Data from Memory Card
Honestly, you are not the only one that has got similar mobile phone memory card photo loss problems, just read more actual situations here:
Situation1: Hello, my Samsung F480 mobile phone strangely asked me to format for RAW file system error this morning. I just pressed "Yes" and also weirdly get "Error" several seconds latter. Is it still possible for me to repair this memory card and also review my phone memory card photos and messages? Thanks!!
Situation2
:
Please help me! My 2GB Blackberry memory card asked me to reformat for an unrecognized format error. I just cannot delete everything inside and have not formatted this memory card yet. But, this cannot prolong and also do not fix anything. I still have stored many messages, contacts, pictures and the likes there. I really want my stuffs back. Thank you for any suggestion!

Download 4Card Recovery