Deleted SMS off from HTC Android Phone by Mistake
"Hello! I do have some troubles with my HTC One M9 android phone recently and deleted all android phone text messages accidentally. Honestly, I just tried to wipe several useless SMS there and selected the messages wrongly. So, can anyone there help me get lost messages back from my HTC android cell phone? Thanks for any advice!"
Hello, no matter which type of android mobile phone you are using, like Samsung Galaxy phone, LG phone or Sony phone, etc, you are often possible to recover deleted or lost mobile phone messages back when you do have a backup of them on your mobile phone SIM card or phone memory card, not the phone internal memory only, with deleted phone message recovery software. And, of course, if you do have extra copies of them saved on other backup storage devices, including external drives, USB drives or more, you also can easily copy and paste them all back without the aid of data recovery tools. Just read more here:
Save Copy of Lost SMS on Android Phone SIM Card or Micro SD card?
Generally, in such cases, you often get chances to take lost android phone SMS after mistaken delete or format, provided that they do have saved at least one copy of the missing phone information on their phone SIM card or Micro SD memory card, not the phone internal memory. Why? To be honest, only the data stored on the phone SIM card or phone memory card (whose data will not be completely wiped after the common phone delete, format, reformat or the like data erasing operations), not the phone internal memory, could be retrieved back at the assistance of deleted file recovery tools. Hence, hope you still have possibilities to retrieve your HTC mobile phone text messages.
Recover Lost Text Messages from Android Phone Card after Delete or Format
No matter how and why you lost your HTC android phone SMS, just find the phone SIM card or phone storage card with at least one copy of these missing test messages saved in advance and run phone card data recovery programs to see how many of your desired android phone messages are recoverable as below:
Step1. Download and install data recovery software on your computer.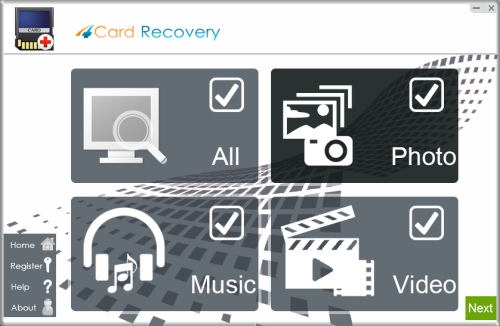 Select recovery options in the main interface
Step2. Pick a proper data recovery mode to scan your phone SIM card or memory card.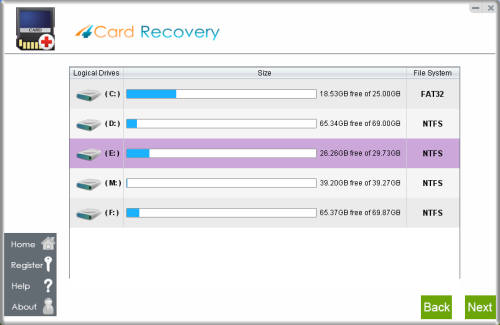 Select card to search photos off card
Step3. Preview the scanned messages and files to see whether the used software works for your SMS recovery cases.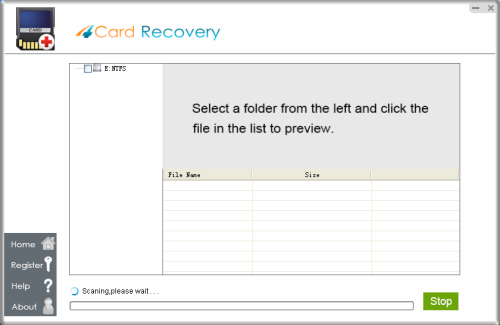 Wait while scanning lost photos, sometimes it takes about 20 minutes to scan a 32G card.
Tips: if it takes more than 2 hours to scan a 32GB card, you may stop the scanning and wait to see
what's already found. Since the card may contains bad blocks that takes longer time than usual.
Step4. Select a partition or hard drive to store all retrieved text messages and data in case of data recovery failures.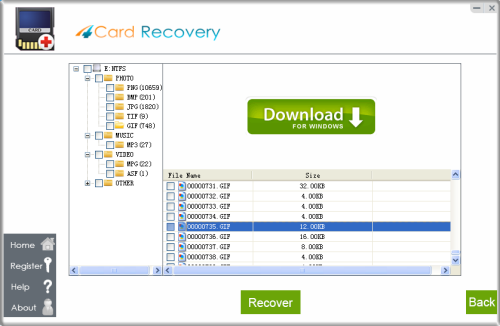 Preview lost photos and save found files. It would generate a folder to contain your lost data.
Please do not save the photo to the card where you lost them. Save them to your PC drive!

Download 4Card Recovery
Please Attention:
*In case of data recovery failures, save no new information on your phone memory card or SIM card before or after a successful data recovery.
*Fake or improper data recovery software could not only waste your money and also can corrupt your original phone data. So, carefully check the scanned files to see whether the running software works for you before you pay for it.
*If you store these deleted or lost messages on the phone internal memory only, you may already lose everything. Learn lessons to back up all important android phone data well from now on. 
Also Delete Android Phone Contacts by Mistake?
No matter how you delete your phone contacts, like recovering lost SMS from HTC android phone card, you also can pick up a proper deleted file recovery utility online to see whether these deleted contacts are still possible to be retrieved back, when you do also save contact backups well elsewhere. Of course, if you do sync your phone contacts with Google, also merely go log into your Google account to restore lost phone numbers back.

Download 4Card Recovery