Master Reset Erased Micro SD Card of My HTC 10 Smart Phone
"Hello! I have a SanDisk Ultra 64GB Micro SD card used in my HTC 10 Android smart phone and works well there for months. However, recently, in order to fix a malfunction problem of this HTC phone, I do have master reset this android phone with this 64GB SD card inside. And it seems that that master reset has deleted all Micro SD memory card files and other phone data. And I have heard that some phone memory card recovery tools helps recover lost data from formatted or deleted memory card. Is that true? Does such phone recovery software work in my case? Thank you for any help here!"
Hello! Such phone master reset do erase everything stored on your phone, including every photo, video, song, mail, contact, message, game and file stored both on the phone internal memory and that 64GB SanDisk Micro SD card. But, also do not panic! As you have written, there are still some smart phone Micro SD card file recovery programs that can be used in your case to recover lost HTC phone memory card files.
HTC 10 Micro SD Memory Card Data Recovery after Phone Master Reset
Even though the HTC 10 Micro SD card is already wiped after that phone master reset, your reserved phone contents, like your pictures, audios, videos and files, may not be destroyed and erased completely yet. Before they are overwritten by new photos and other phone files, you always are possible to recover data from Micro SD card with the help of HTC phone memory card data recovery tools. Hence, before everything goes worse, go recover deleted files from HTC phone card step by step:
Step1. Download and launch HTC phone card recovery software.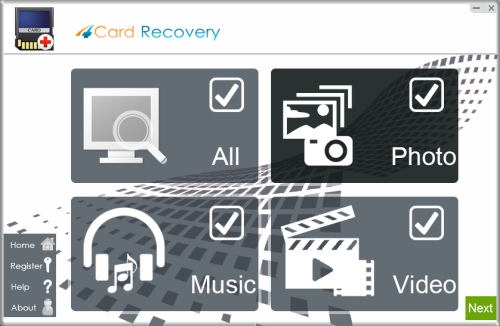 Select recovery options in the main interface
Step2. Start this software and choose a proper recovery mode from its main screen.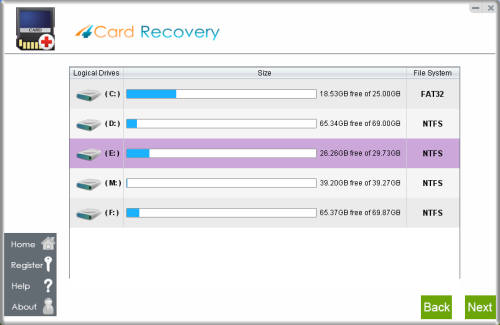 Select card to search photos off card
Step3. Scan your HTC Micro SD card and preview deleted files.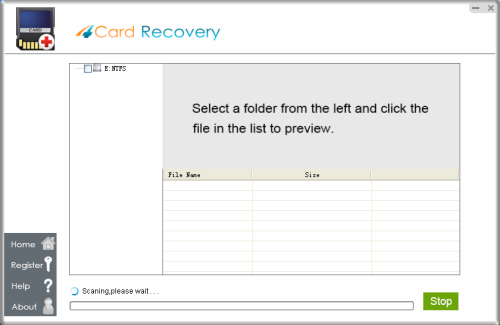 Wait while scanning lost photos, sometimes it takes about 20 minutes to scan a 32G card.
Tips: if it takes more than 2 hours to scan a 32GB card, you may stop the scanning and wait to see
what's already found. Since the card may contains bad blocks that takes longer time than usual.
Step4. Recover deleted data to computer external hard drives, flash drives or storage devices.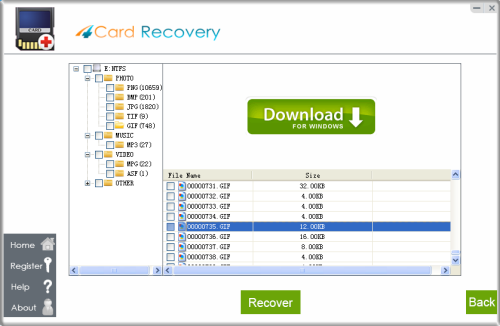 Preview lost photos and save found files. It would generate a folder to contain your lost data.
Please do not save the photo to the card where you lost them. Save them to your PC drive!

Download 4Card Recovery
Please Remember:
*Do not use this 64GB Micro SD memory card on any electronic device to avoid worse data loss troubles.
*Do not purchase any data recovery code before you preview its scanned photos, documents and files carefully.
*Do not master reset your mobile phone without extracting your phone memory card out again.
*Do not save only one copy of all important HTC phone data on the used Micro SD card only.
Is It Possible to Recover Photos Deleted from Phone Internal Memory?
Generally speaking, every phone file stored on the phone internal memory, like something saved on the phone RAM, often will be immediately erased off from the phone and get lost forever after that master reset. Hence, in this aspect, it is really difficult to recover photos and files deleted from phone internal memory. But, also do not give up any hope so quickly. Merely stop saving new data on the phone internal memory and let phone data recovery utilities to scan your phone and see whether it is possible to get deleted data back or not.
Master Reset or Hard Reset or Factory Reset Overview
A master reset, also commonly-known as a factory reset or a hard reset, does mean to restore an electronic device to its factory settings and all related new applications, setting, data added by the users would be erased completely. And this is also why people are always careful about the master reset of their mobile phones, tablets, computers, laptops and other electronic device, especially when they do have stored much very, very important there. However, of course, when you do have made device data backups well on other several drives or devices, need to fix some device malfunction problems or wipe every possible device information before selling or donating, such master reset, hard reset or factory reset also helps a lot to avoid data leaking as well as restore device common use. Hence, if you are also considering about whether you are supposed to perform a factory reset on your phone or tablet, also go make your decision according to your own conditions.