SD Card Is Blank or Has Unsupported File System on My Tablet
"Hello! One of my friends yesterday was enjoying his films stored on a SanDisk 16GB SD card used on one of his Sony Xperia tablet. But, didn't know why this Sony tablet stopped working and told the inner SD card was blank or had unsupported file system. He said he just accidentally dropped this tablet seconds ago and guessed that this table SD card got corrupted for that. Do you have any idea about such blank SD card problems? Is it still possible for us to do data recovery for SanDisk SD card? Any help will be highly appreciated here! Thanks!"
Hello, friends! As you guys have guessed, your Sony tablet memory card may be really corrupted due to the accidental format and got such blank or unsupported file system error problems. However, also do not worry! No matter why it is malfunctioned now, your tablet information, like your videos, songs and files, are still able to be recovered back with the help of SD card data recovery programs.
Go Scan Tablet SD Card with Data Recovery Software
Generally, no matter when and why your tablet memory card becomes blank or has unsupported file system, you often are able to restore its common use with a quick or full format. Hence, if you are really in a hurry to fix such SD card unsupported file system problems, merely go format it on your PC after you do have recovered your SD card films, music, mails, photos and files with memory card file recovery utilities. So, in your case, firstly stop using this tablet memory card to hold more new information, download data recovery software to retrieve lost data and go format this card to see whether it is able to work as effectively as before.
And here are the simple steps for you to scan this blank tablet SD card and take lost files back:

Step1. Connect this SD card to your computer with a card Reader and run a SD card file recovery tool well there.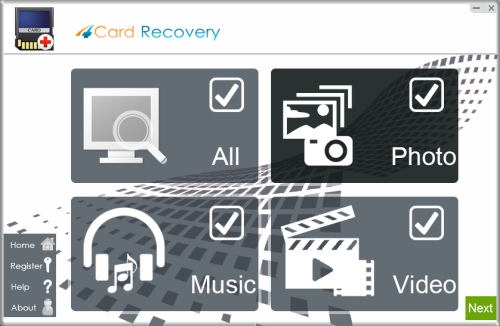 Select recovery options in the main interface
Step2. Pick out a proper data recovery mode based on your blank memory card problems.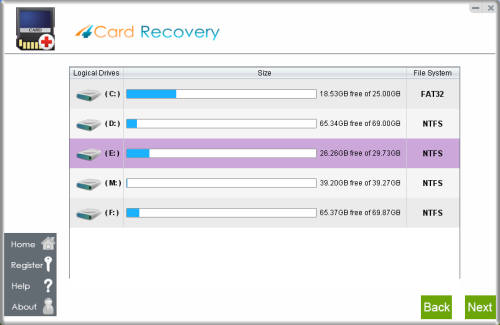 Select card to search photos off card
Step3. Perform a deep scan on this table 16GB SD card and preview the scanned files.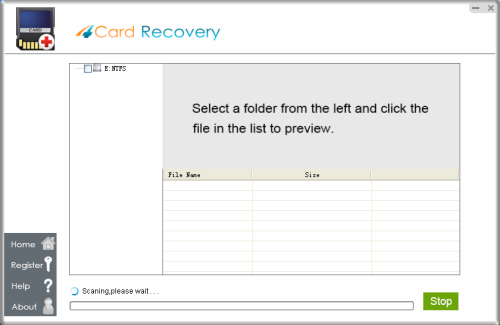 Wait while scanning lost photos, sometimes it takes about 20 minutes to scan a 32G card.
Tips: if it takes more than 2 hours to scan a 32GB card, you may stop the scanning and wait to see
what's already found. Since the card may contains bad blocks that takes longer time than usual.
Step4. Save all preferable data to another storage device in case of data recovery failures.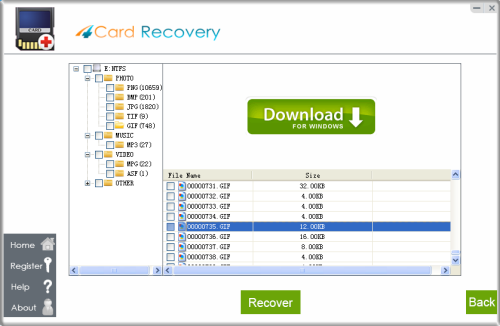 Preview lost photos and save found files. It would generate a folder to contain your lost data.
Please do not save the photo to the card where you lost them. Save them to your PC drive!

Download 4Card Recovery
Please Notice:
*Do not format this tablet SanDisk SD card before data recovery.
*Do not rewrite this blank 16 GB memory card before getting desired data back.
*Do not save everything restored or future data on only one tablet memory card again from now on.
Why Device SD Card Becomes Blank?   
In your case, the 16GB SD card becomes blank after your friend has dropped it unexpectedly. So, such blank SD card data loss troubles could be the reasons behind. But, in daily use, the sudden dropping or hitting a device memory card is not the only reason why device SD card was blank. For example, when your device or this table SD card is virus attacked mutely, you may also find this memory card has held nothing and asked you to format, (which is also called memory card unformatted error problem). Your card contents may be merely hidden by the potential viruses or threats. Of course, it is also possible to be unintentionally formatted and cause you blank issues. Merely perform accidentally formatted SD card data recovery there.
Why Tablet SD Card Has Unsupported File System?
When a tablet memory card has unsupported file system, it often indicates that your device memory card has got RAW file system and cannot be read well by your device or computer. And such RAW format SD card problems could take place due to many reasons, like corrupted SD card, virus infected SD card, fallen SD card, tablet problems and more. However, no matter why yours is, do not rush to change SD card from RAW to FAT32 with format and merely go rescue the device memory card files back with success at first to avoid worse data loss troubles.
Download 4Card Recovery