Need Helps to Reset SD Memory Card for Later Use, Donating or Selling?
Hello! Find your Android phone SD memory card is filled with sensitive pictures and files before donating? Really worry that your personal data stored on digital camera Micro SD card would be leaked after selling? Or wonder whether it is possible to factory reset your digital camcorder memory card to remove all scattered files or fix all related SD memory card malfunction problems? OK! Resetting this SD or Micro SD memory card is really a practical choice for you to go. But, have no idea about how to reset SD memory card to its factory state? No worry! Follow these below guide to erase your phone or camera memory card permanently.
How to Reset Micro SD Card via Windows Computer?
The SD card, also known as Secure Digital card, including Micro SD cards, SDHC cards, SDXC cards, Mini SD cards and more, is often used in digital cameras, Android or Windows smart phones, tablets, digital camcorders and more electronic devices. And it also widely used on Windows computers or laptops. Hence, you are also able to plunge this Micro SD card or SD card to your PC with the help of a card reader and go reset it via Windows computers.
Here are simple steps for you to go on:
Step1. Open your computer and inset your SD memory card there.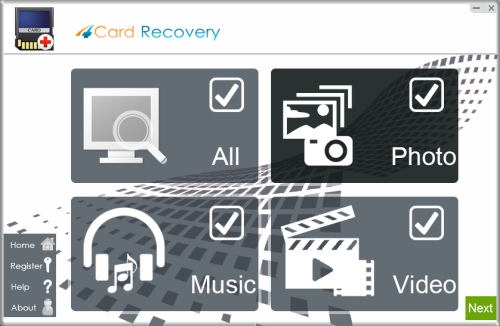 Select recovery options in the main interface
Step2. Double click My Computer icon on your computer desktop.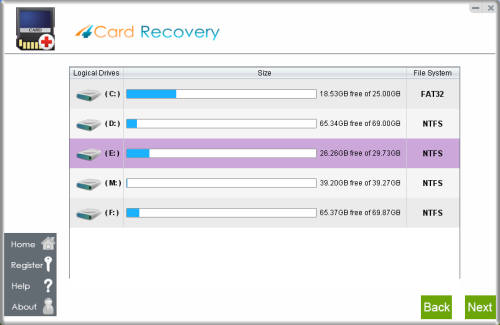 Select card to search photos off card
Step3. Right click this Micro SD memory card that needs to be reset and hit Format option.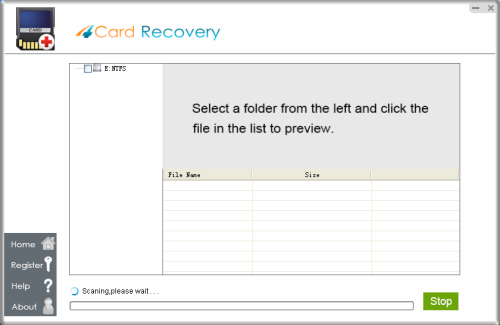 Wait while scanning lost photos, sometimes it takes about 20 minutes to scan a 32G card.
Tips: if it takes more than 2 hours to scan a 32GB card, you may stop the scanning and wait to see
what's already found. Since the card may contains bad blocks that takes longer time than usual.
Step4. Set all properties well and click OK option there.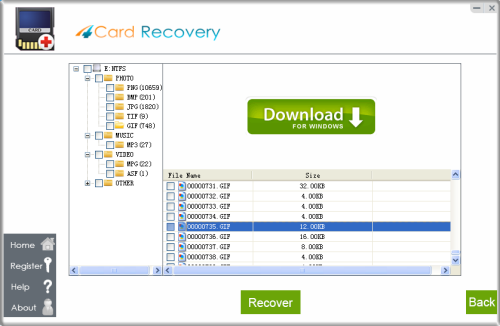 Preview lost photos and save found files. It would generate a folder to contain your lost data.
Please do not save the photo to the card where you lost them. Save them to your PC drive!

Download 4Card Recovery
And then, check whether all your information is erased completely.
Please Note: Write more trash or useless files and folders on this formatted memory card to rewrite and destroy all original card contents completely.
How to Reset SD Card on Digital Camera, Phone or Tablet?
Of course, if you do have no any computer or laptop around, you also can directly try to factory reset your SD or Micro SD card on your camera, camcorder, mobile phone or tablet. Hope you do have taken these electronic devices around.
And what you are supposed to do is also really simple: firstly start your electronic device, open device General setting, find Factory reset and select your inserted memory card as well, and confirm the factory resetting process at last.
Since different electronic devices may place the Factory Reset function under different catalogs, you'd better check your device system carefully and find it out soon.
Save Important SD Memory Card Backups on Other Safe Drives
No matter which way you have chosen to reset your SD memory card, the factory resetting process will delete all files off from memory card completely. Hence, if you do not want to lose any picture, song, video, document and file left on this storage card, go save all important files on other safe storage devices, like computer internal hard drive partitions, USB hard drive, USB flash drives and more. Merely connect your Micro SD card and SD card to your laptop and save copies of all crucial data to these connected devices well.
Recover Lost Data from SD or Micro SD Card after Factory Reset
Of course, if you do have performed a factory reset on your SD card or Micro SD memory card and find many files or folders have not been successfully backed up, also do not panic! Before using, donating or selling it, merely go start memory card data recovery tools to take chances. Without rewriting the same memory card after factory reset, you do get a really high chance to recover lost files back. 
Download 4Card Recovery